Make up a batch of this delicious noodle soup with flavoursome pork meatballs in for a warming and tasty lunch or dinner.
Vietnamese Noodle Soup with Pork Balls
Serves 4-6
Ingredients
The balls:
1 large free-range egg
2 tablespoons plain flour
500g pork shoulder, minced
2 spring onions, finely sliced
1 tablespoon chopped coriander
2 tablespoons grated fresh ginger
3 tablespoons Nuoc Cham (a Vietnamese dipping sauce)
2 tablespoons olive oil
2.5 litres Chicken Stock
1 stick of cinnamon
4 spring onions, sliced lengthways
1 x 5cm piece of fresh ginger, peeled and thinly sliced
2 teaspoons sugar
1 teaspoon salt
2 tablespoons fish sauce
1 star anise
200–300g rice vermicelli noodles (allow 50g dried weight per person)
1 red Thai chilli, seeds removed and sliced
2 tablespoons soy sauce
3 shallots, thinly sliced
150g beansprouts, blanched
Method
Beat the egg with the plain flour in a large mixing bowl. Add the minced pork, spring onions, coriander, ginger and Nuoc Cham and mix with your hands until well combined.
Heat a small frying pan over a high heat. Break off a small amount of the mixture, flatten between your fingers and fry until cooked. Taste to check the seasoning and add more if necessary. Form the mixture into 16–18 balls each 4cm in diameter, packing each one firmly.
Heat the oil in a heavy-based frying pan and add the balls in batches so as not to overcrowd the pan. Brown the balls for 3 minutes on each side, then remove them from the pan and set aside.
In a large pan, add the Chicken Stock, cinnamon, spring onions, fresh ginger, sugar, salt, fish sauce and star anise, then bring to the boil. Reduce the heat and simmer for 40 minutes to let the flavours infuse. Strain the broth into another pan and taste for flavour – you can add a little Nuoc Cham if it needs a boost.
Turn the heat back on, drop in the pork balls and simmer for 15 minutes, or until the balls are cooked through.
Meanwhile, drop the noodles into a pan of boiling water and cook for 2 minutes, then drain, refresh under cold water and drain again. Pour the soy sauce into a little dish and add the sliced chilli.
Drop the beansprouts into a saucepan of boiling water. Return to the boil and cook for 1 minute, then drain. Refresh in ice cold water and drain again.
Divide the noodles, shallots and beansprouts between your serving bowls, then pour over the broth and balls and garnish with coriander, basil and a wedge of lime. Serve the chilli soy sauce on the side to mix in if you require an extra flavour kick.
Recipe extracts from
The Bowler's Meatball Cookbook: Ballsy Food. Ballsy Flavours. Ballsy Recipes
, by Jez Felwick, available now, £10.19 (Hardcover),
amazon.co.uk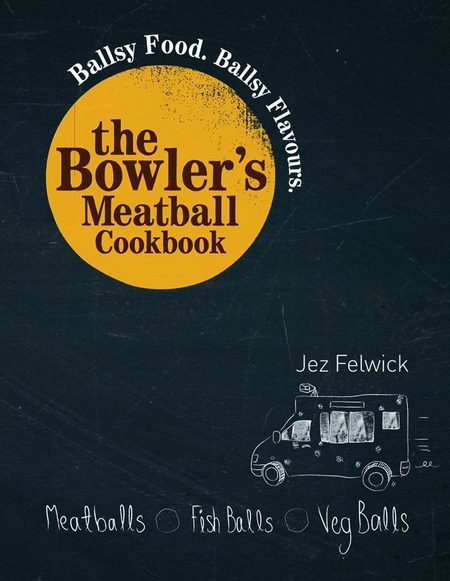 Have you eaten at The Bowler's food truck? Leave a comment below to
be in with a chance of winning a £100 goodie bag
PEANUT BUTTER AND CHOCOLATE CANDY BALLS
ANJUM ANAND'S BEAUTIFYING CURRY RECIPE
ENJOY A LONDON UNDERGROUND AFTERNOON TEA