If you need to add some variety to your lunch box, this simple and delicious falafel ball recipe will do the trick.
Add to a salad, or serve with a pita bread and sour cream. Yum.
Balafel
Serves 4-6
Ingredients
2 tablespoons olive oil
4 shallots, finely diced
2 garlic cloves, crushed
2 teaspoons cumin seeds
1 teaspoons coriander seeds
500g dried chickpeas, cooked or 2 x 400g tins chickpeas, drained
½ teaspoon dried chilli flakes
¼ teaspoon freshly ground nutmeg
2 teaspoons salt
¼ teaspoon black pepper
2 free-range eggs
200g ricotta cheese
150g breadcrumbs
1 tablespoon finely chopped flat-leaf parsley
Juice of 1 lemon
Method
Preheat the oven to 220ºC (425ºF), Gas Mark 7 and line a large baking tray with non-stick baking parchment.
Put the washed, still wet spinach into a pan and add a splash of water. Cook over a high heat, turning regularly, until the spinach has wilted and softened.
Squeeze it between two plates to get rid of excess liquid, then chop finely. Put the olive oil into a heavy-based frying pan over a medium heat.
Add the shallots, garlic and a sprinkling of salt and pepper. Stir-fry over a low heat for 6 minutes, or until the shallots are translucent, being careful not to burn the garlic (add a splash more oil if things start sticking), then add the spinach and stir frequently for a further 2 minutes. Leave to cool.
Heat a clean, heavy-based frying pan over a high heat and toast the cumin and coriander seeds for 2 minutes, moving them around in the pan so they don't burn, then grind them in a pestle and mortar.
Put the cooked chickpeas into a food processor with the cumin and coriander seeds, chilli flakes, nutmeg, salt and pepper, and pulse to get a rough paste. Make sure it isn't too fine, as you want a chunky texture.
Beat the eggs in a large bowl and stir in the ricotta. Add the breadcrumbs, spinach mixture, chickpea mixture, parsley and lemon juice and mix with your hands until well combined.
Heat a small frying pan over a high heat. Break off a small amount of the mixture, flatten between your fingers and fry until cooked. Taste to check the seasoning and add more if necessary.
With wet hands, form the mixture into 20 balls each about 5cm in diameter, packing each one firmly, then place the balls on the prepared baking tray.
Bake for 15–20 minutes, turning the tray halfway through – the balls should begin to brown on the top. Make sure that they don't get burnt underneath.
Recipe extracts from
The Bowler's Meatball Cookbook: Ballsy Food. Ballsy Flavours. Ballsy Recipes
, by Jez Felwick, available now, £10.19 (Hardcover),
amazon.co.uk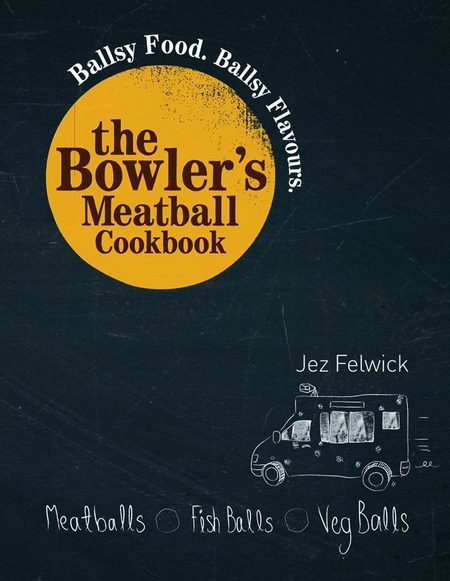 Have you eaten at The Bowler's food truck? Leave a comment below to
be in with a chance of winning a £100 goodie bag
GREAT BALLS OF FIRE SPICY MEATBALLS RECIPE
ANJUM ANAND'S BEAUTIFYING CURRY RECIPE
ENJOY A LONDON UNDERGROUND AFTERNOON TEA