If you've never tried the joyousness that is mango sticky rice, you are missing out.
Currently
on holiday in Thailand
with the Kardashian/Jenner clan,
Kendall (she's the one that is now a model
) posted this snap on
her Instagram
, saying it was her fourth bowl today.
Like Kendall, people go out of their way to eat as much of it as possible when
visiting Thailand
- understandable as once you've tried the
fruity carby goodness
of this pudding, you start to dream about it.
Served by both restaurants and
street food vendors
alike, it's basis is a glutinous rice sweetened with coconut milk, and served with slices of fresh Thai mango and a sprinkling of crunchy seeds.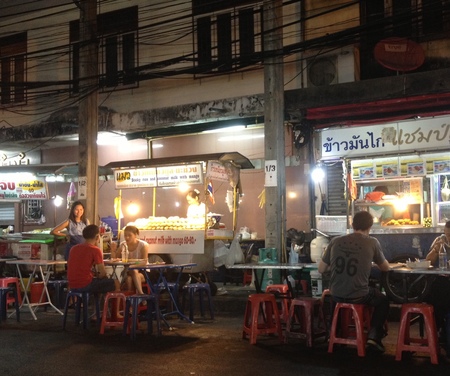 Although there are various ways of making it, the sticky rice is traditionally steamed first before being mixed with the coconut milk and is served drizzled with extra sweet coconut sauce.
If you're not
passing through Bangkok
any time soon - try making it yourself at home.
Mango sticky rice pudding recipe
INGREDIENTS
300g sticky rice (sweet or glutinous rice)
300ml coconut milk
3 tbsp granulated sugar
¼ tsp salt
2-3 ripe mangoes
Toasted sesame seeds
METHOD
Rinse the rice and then put in a bowl and cover with water and leave to soak overnight.

Drain rice well. Line a sieve with a muslin cloth or some cheesecloth and put it over a deep saucepan of boiling water. The sieve should not be touching the water. Put the rice in the sieve, cover and steam for about 20-30 minutes (until tender).

Set the rice aside. In a pan put the coconut milk on a low heat with the sugar and salt. Stir until the sugar has dissolved.

Add ¾ of your coconut milk to the rice and let it stand for about 30 minutes, until all the milk has been absorbed.

Peel and slice your mangos in big thick slices.

When ready to serve, mould the rice in a glass or bowl and pop upside down onto a plate. Arrange the mango next to it.

Take your remaining coconut milk sauce and drizzle some over the top. Sprinkle with toasted sesame seeds.

Had a go? Tweet us your verdicts
@handbagcom
WE LOVE: RACHEL'S LOW FAT GINGER & LEMON YOGURT
REVIEW: JAPANESE FUSION AT SUSHINHO, LONDON
MORE RECIPES ON HANDBAG.COM