Follow the alkaline diet easily with tasty recipes from the
Honestly Healthy
cookbook. Even Victoria Beckham and Kelly Brook are fans!
We love this simple aubergine and pesto recipe that's pumped up with feta cheese and garlic...
Aubergine with Cashew Pesto
Natasha Corrett says, "This simple but tasty bake takes no effort whatsoever and (although meatless) is a meaty and complete meal, with the cashews adding great protein to this dish."
Serves:
2
Ingredients:
1 aubergine (eggplant), halved lengthways
4 tbsp olive oil
50g (2oz/¹/³ cup) raw cashews
40g (1½oz) coriander (cilantro)
1 garlic clove
50g (2oz) feta, crumbled
Method:
Preheat the oven to 170°C/340°F/gas mark 3½.
Place the aubergine (eggplant) halves cut-side up on a baking tray (cookie sheet), drizzle with 2 tablespoons of the olive oil and bake for about 25 minutes, until almost tender.
Meanwhile, whizz the cashews, coriander (cilantro), garlic and remaining olive oil in a blender to a rough paste.
When the aubergine (eggplant) halves are almost tender, coat them with the pesto and return to the oven for a further 10 minutes, until the pesto starts to crisp and brown.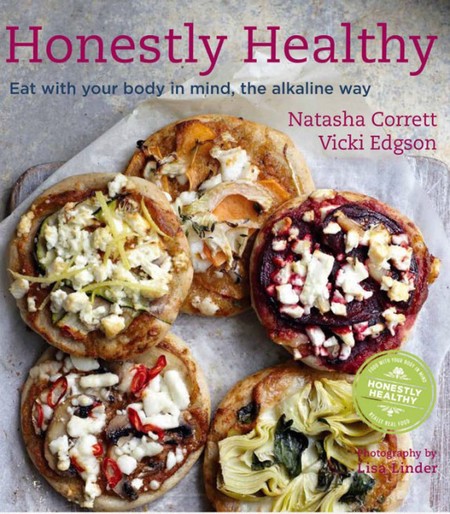 Honestly Healthy: Eat with your body in mind the alkaline way by Natasha Corrett and Vicki Edgson, published by Jacqui Small, £20 Hardback.
Will you be giving this a try?
HONESTLY HEALTHY LAYERED VEGETABLE BAKE
VICTORIA BECKHAM AND KELLY BROOK LOVE HONESTLY HEALTHY COOKBOOK
HONESTLY HEALTHY LAUNCH DELIVERY SERVICE
KELLY BROOK CHALLENGES ROSIE HUNTINGTON WHITELEY WITH CUPCAKE BREAKFAST