Vanilla Cupcakes with Swirly Icing
Mary says, "The swirled, two-toned icing makes these pretty cupcakes really distinctive, and you can achieve the effect using a regular piping bag. Have fun experimenting with the huge range of coloured and patterned paper cases and sprinkles available."
Makes:
12
INGREDIENTS
175g (6oz) butter (room temperature), cut into large pieces
175g (6oz) self-raising flour
175g (6oz) caster sugar
1⁄2 tsp baking powder
3 large eggs
1⁄2 tsp vanilla extract
For the icing:
175g (6oz) butter (room temperature), cut into large pieces
1⁄2 tsp vanilla extract
2–3 tbsp milk
350g (12oz) icing sugar, sifted
pink edible colouring
edible pink hearts or other sprinkles, to decorate
METHOD
Preheat the oven to 180°C (fan 160°C/350°F/Gas 4). Line a 12-hole muffin tin with paper cupcake or muffin cases.

Put all the cake ingredients into a large bowl and beat with an electric hand whisk or a wooden spoon until smooth and evenly mixed. Divide the mixture evenly between the paper cases.

Bake for 20–25 minutes, or until the cakes are well risen and firm on top.

Transfer to a wire rack to cool. Make the icing: put the butter, vanilla extract, 2 tablespoons of the milk, and half the icing sugar in a large bowl and beat until smooth.

Beat in the remaining icing sugar, and pour in the rest of the milk if needed to make the icing the right consistency. Put half of the icing into another bowl and colour it pale pink with the edible colouring.

Carefully spoon this down one side of a piping bag fitted with a No. 8 star nozzle, then spoon the non-coloured icing down the other side of the bag. Twist the end of the bag to seal the icing in.

Pipe swirls of the icing on top of each cupcake. Scatter with the edible pink hearts, or other sprinkles, to decorate.

To make the cupcake icing: Using an electric or hand whisk, beat the icing ingredients until well mixed. Aim for a soft, fluffy consistency. Add extra milk if the mixture is too dry.
NUTRITION INFORMATION
Calories: 465
Saturated fat: 16g
Unsaturated fat: 10g
Sodium: 280mg
Swirly Coloured Icing advice:
It's easy to make the colour of the icing too strong. To prevent putting in too much edible colouring, use a cocktail stick to add a drop at a time until you have the shade that you like. Instead of using a regular piping bag, you can buy dual compartment piping bags, which automatically separate the two colours, allowing you to pipe them at the same time in a similar way.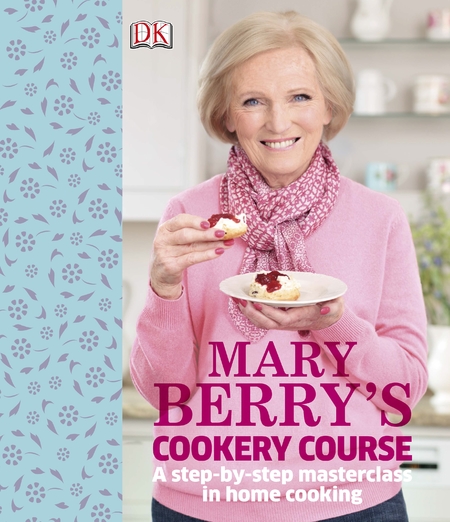 Mary Berry's Cookery Course
, published by DK, £25, dk.com. Also available as an eBook to download from the iBookstore and Amazon Kindle Store.
What do you think of this recipe?
MARY BERRY'S HOT CHOCOLATE SOUFFLÉS
MARY BERRY'S STICKY TOFFEE PUDDING
MARY BERRY'S WIMBLEDON CAKE