We don't just want to make apple pie...We want to make a Mary Berry apple pie. Follow this step-by-step recipe from the
Great British Bake Off
judge's latest book and make your Sunday afternoon magical - with a splash of custard.
Double-crust Apple Pie
Mary says, "Homely and traditional, apple pie is the perfect dessert for a special meal. It never fails to please and is surprisingly easy to master. The trick is to have crisp, golden pastry on the outside and tender, juicy fruit that holds its shape on the inside. For crisp, light pastry always work in a cool kitchen with cool ingredients and tools."
Serves:
6
Special equipment
A 23cm (9in) pie tin and a baking sheet
INGREDIENTS
350g (12oz) plain flour, plus extra for dusting
175g (6oz) hard block margarine, plus extra for greasing
About 6 tbsp cold water
1kg (21⁄4lb) dessert or cooking apples
Juice of 1 small lemon
85g (3oz) sugar, plus 1 tbsp to glaze
11⁄2 tbsp cornflour
1 tbsp milk, to glaze
PREP TIME
45 mins, plus 30 mins chilling
COOK TIME
40–50 mins
NUTRITION INFORMATION
Per serving: Calories: 546, Saturated fat: 11g, Unsaturated fat: 13g, Sodium: 241mg
Cook's notes - Sweetness
Use only the amount of sugar specified and serve extra at the table if necessary, particularly if you've used cooking apples, which are less sweet than dessert apples. Sugar draws out the juice from fruit, and if there is too much, it may overflow during baking and stick to the bottom of your oven.
Prepare ahead:
You can keep the pastry, wrapped in cling film, for up to 24 hours in the fridge.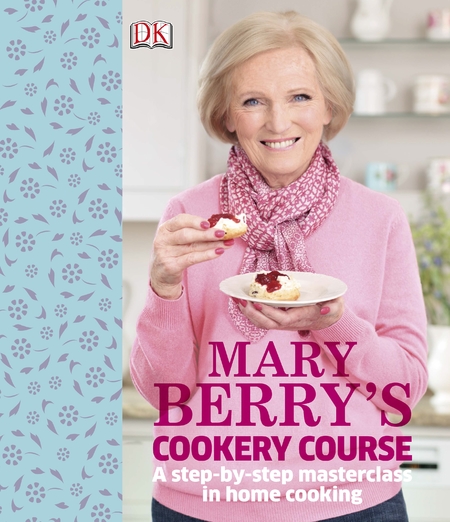 Mary Berry's Cookery Course
, published by DK, £25, dk.com. Also available as an eBook to download from the iBookstore and Amazon Kindle Store.
What do you think of this recipe?
MARY BERRY'S HOT CHOCOLATE SOUFFLÉS
MARY BERRY'S STICKY TOFFEE PUDDING
MARY BERRY'S WIMBLEDON CAKE