Jessie J has been celebrating her new single with a giant iced red velvet cake from
The Hummingbird Bakery
. Doesn't it look amazing?
She Instagrammed the snap with the caption, "I bought this cake today to celebrate this amazing day! The first play of my second single #itsmyparty on the radio in the UK !! I want to THANK my REAL dedicated TRUE #HEARTBEATS who are always nice to me always and understand I'm working hard and support me....I am a busy ATM and need your support more than ever! #dodowhatiwant #itsmyparty"
Traditionally, red velvet cakes can be made one of two ways; with a dash of red food colouring and plenty of cream cheese frosting or with grated beetroot. Both provide the rich red colouring, but the beetroot option has a denser consistency - a bit like carrot cake.
The simple sponge version suits birthday parties and special occasions, while the beet option is great for afternoon tea and post dinner treats.
Here's how to make a classic red velvet cake with cream cheese icing;
INGREDIENTS
150g unsalted butter, softened
150g golden caster sugar
1 tsp vanilla extract
3 free-range eggs
4 tbsp Greek-style yoghurt
1-2 drops red food colouring
150g self-raising flour
50g cocoa powder
1 tbsp semi-skimmed milk
The best bit, the cream cheese icing, needs...
100g butter
200g cream cheese
500g icing sugar
1 tsp lemon juice
METHOD
Turn your oven up to 170C before greasing and lining a deep round tin that's 15cm or 6in wide.

Beat the butter, sugar and vanilla until pale and fluffy. Add lightly beaten eggs gradually and beat.

Mix the yoghurt with the food colouring, making sure the mixture is very dark red (it will fade during cooking). Add this to the cake mixture and fold in the flour and cocoa powder. Add the milk and combine.

Spoon the mixture into a tin and bake for about 1 hour and 15 minutes or until a skewer comes out clean from the middle of the cake.

Remove from the tin and allow to cool.

For the icing, mix the butter and cream cheese and beat in the icing sugar gradually. Add lemon juice and beat until everything is pale.

Either serve as one big cake, or slice into three layers and sandwich with icing. Finish with a thick layer of icing and sprinkle any red sponge crumbs over the top.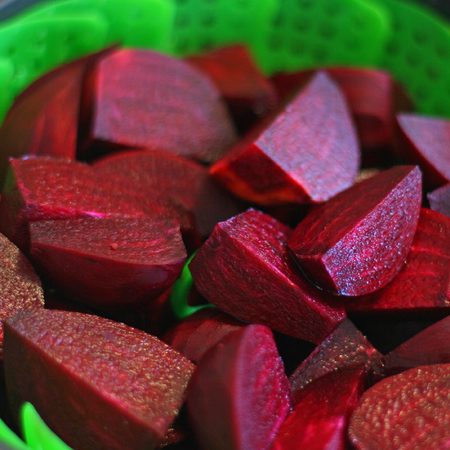 If you want to make the beetroot version, you'll need to combine 320g plain flour, 1tsp salt, 2tsp bicarb, 400g caster sugar, 50g cocoa powder, 300g unsalted butter, 2 tbsp honey, 125ml milk, 2 tsp vanilla extract, 2 tsp red food colouring and 4 eggs with 140g of peeled, boiled and grated beetroot and 2tsp of lemon juice.
Find the full recipe
here
.
Will you be making your own red velvet masterpiece?
JESSIE J'S GONE BARMY FOR BURGERS
EGG MAYO CROWNED KING OF THE SANDWICH FILLINGS
AND THE WORLD'S FIRST TEST TUBE BURGER TASTED LIKE...