Winner of the second series of
The Great British Bake Off
, Jo Wheatley, is back with a brand new book and a brand new campaign designed to get more people in the kitchen.
The lovely Jo is fronting The Big Hour Cake Sale (21-27 October), an annual fundraiser for Rainbow Trust Children's Charity. They're asking people across the country to use the extra hour we'll gain when the clocks go back to hold a charitable cake sale. Sounds good right?
As a bit of a sneak preview, Jo has shared this amazing recipe that uses milk chocolate and double cream...decadent, but worth it!
Chocolate Mousse Melting Moments by Jo WheatleyMakes:
15
Jo says, "I first made these by chance: I was going to use buttercream as a filling but when I opened the fridge I noticed some little pots of mousse I'd made the night before, so I tried them instead. And my, do they work well: they are like the best Bourbons you've tasted. You will need to make the chocolate mousse well in advance."
INGREDIENTS
For the melting moments:
250g unsalted butter, softened
60g icing sugar
1 tsp vanilla extract
250g plain flour
50g cornflour
60g cocoa powder
For the chocolate mousse filling:
100g dark chocolate
50g milk chocolate
100ml double cream
1 large egg yolk, beaten
30g icing sugar
Equipment:
Large baking tray covered in baking parchment
Piping bag fitted with a large open star nozzle
METHOD
Start by making the chocolate mousse filling.

Finely chop the dark and milk chocolate and tip into a bowl. Heat the cream in a small saucepan until it is just below boiling point and then pour over the chopped chocolate and stir gently until the chocolate has melted.

Add the egg yolk and icing sugar and stir until smooth and glossy. Chill until set.

Make the melting moments. Combine the butter, icing sugar and vanilla in the bowl of a free-standing mixer or food processor and blend until light and fluffy. Sift the flour, cornflour and cocoa into the bowl and beat until smooth.

Spoon the mixture into a piping bag fitted with a large, open star nozzle and pipe 30 swirls onto the lined baking tray. Chill the melting moments in the fridge for 15 minutes.

Preheat the oven to 180°C/350°F/Gas Mark 4.

Bake the melting moments on the middle shelf of the preheated oven for 12–15 minutes until firm. Leave to cool on the baking tray.

Spoon the chocolate mousse into the clean piping bag; pipe onto 15 of the cookies and then sandwich with the remaining cookies.

Remember – this recipe contains raw egg, so be careful who you feed it to!
Find more amazing recipes in
A Passion For Baking
by Jo Wheatley, £18.99,
here
.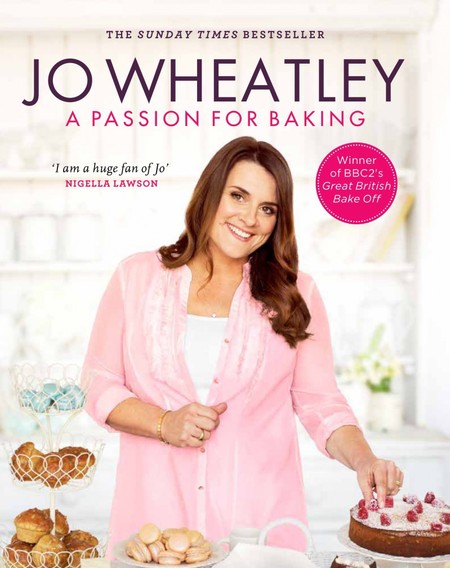 Will you be giving this a try?
For further details on how to register for The Big Hour Cake Sale and to see some of Jo's tasty recipes,
click here
.
GREAT BRITISH BAKE OFF 2013: CONTESTANTS
PAUL HOLLYWOOD MAKES AMERICAN BAKE OFF CONTESTANTS CRY
GBBO FONDANT FANCIES
GREAT BRITISH BAKE OFF BLOG - EPISODE 2