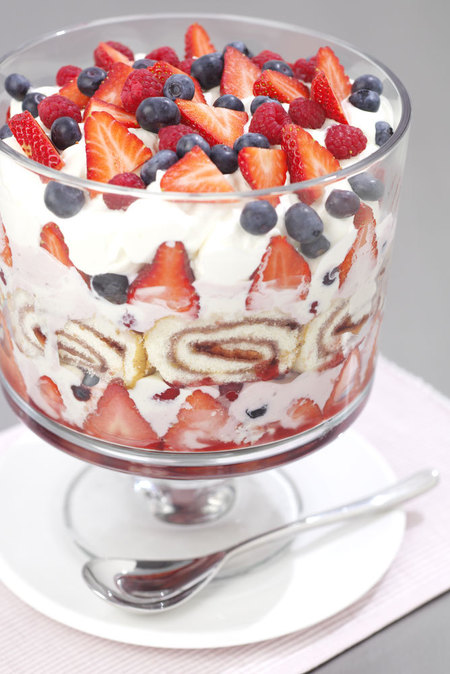 This week
The Great British Bake Off
contestants were focused on signature desserts, tricking 'floating islands' and tasty petit fours, but it was the towering trifles that really got our mouths watering.
In the first of three challenges, Mary and Paul asked the remaining contestants to create a trifle with biscuit, cake, jelly or custard in perfectly distinct and equally yummy layers. Some of the creations were amazing, but what we really want is a quick, easy and delicious recipe that makes our friends go 'Oooooohhh'.
Luckily, this layered fruit trifle recipe landed in our laps. It's speedy to make, a doddle to prepare and will give you that Mary Berry domestic goddess feeling...
Big layered raspberry, strawberry and Swiss roll trifleServes:
12‐16
INGREDIENTS
3 raspberry Swiss rolls, sliced
800g strawberries, de‐stalked and cut into halves, reserve some for decoration
300g raspberries, reserve some for decoration
360g blueberries, reserve some for decoration
1 x 500g fresh vanilla custard
2 x 450g Rachel's Low Fat Raspberry Bio Live Yogurt
600ml whipping cream
METHOD
Begin by layering the Swiss roll on the base followed by the fruits, custard and yoghurt, repeat the layers until the serving dish is three quarters full – you really can't go wrong.

Whip the cream to soft peaks and either pipe or spoon into the dish to finish the trifle layers.

Decorate with scattered fruit and serve immediately.
PREP TIME
20 mins
NUTRITION INFORMATION
Per serving 277kcal, Protein 5.8g, Carbs 31.8g, Fat 15.2g, Sat Fat 8.2g, Fibre 3.0g, Sugar 26.4g, Salt 0.1g
Will you be whipping up a trifle inspired by the GBBO contestants?
WHAT TO EAT NOW: SEASONAL RECIPES FOR SEPTEMBER
THE ULTIMATE STEAK & CARAMELISED ONION SANDWICH RECIPE
CHARRED ORANGE SORBET WITH WARM RUM SAUCE