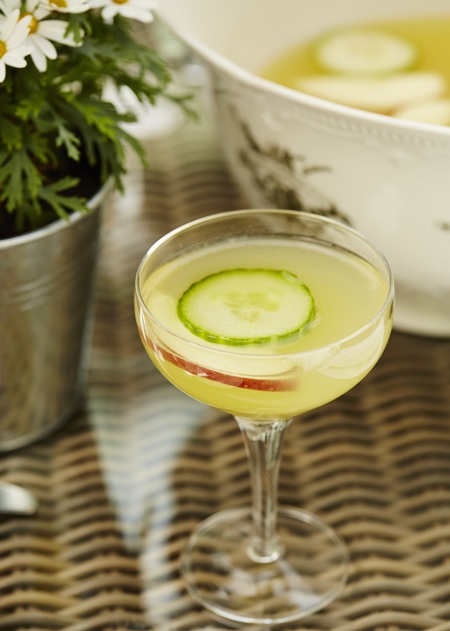 Elderflower, apple
and cherry all mix in a large punch bowl to
create a delicate and thirst-quenching punch
.
Laced with gin, we
couldn't think of a better cocktail
for this
awesome British weather
.
With floral and fruity flavours and a slice of cucumber added, it's
super refreshing
too.
INGREDIENTS
200ml Hendrick's Gin
25ml Marashchino Liqueur
30ml St Germain Elderflower Liqueur
400ml Eager Apple Juice
25ml Lovage Cordial
60ml Lemon Juice
½ apple
6-8 slices Cucumber
To serve:
1 x punch bowl
1 x ladle
4 x Glasses
METHOD
Mix all ingredients together in the punch bowl.

Add ice until bowl is a little under 2/3s full.

Then add half an apple sliced into fine wedges and 6-8 whole cucumber wheels.

The fruit and cucumber should be poking out of the ice, not underneath it for effect.
This cocktail is available exclusively at the 15 Hotel du Vins around the country as part of their luscious new Al Fresco menu. hotelduvin.com
SPICY GINGER BREWSKI COCKTAIL RECIPE
FRESH NORDIC SUMMER PUNCH RECIPE
MORE MOUTHWATERING RECIPES