WHY GO?
Because triple-fried chips and
greasy burgers
are so last season, this summer is all about light, fresh and healthy food. And the latest pop-up at the Hyatt Regency on Portman Square makes
working on that summer body
that bit easier with their inspired Taste of the Vegan Earth menu.
For £25 you get three courses of wonderful, inventive vegan fare, including aubergine caviar and melt-in-the-mouth coconut cheesecake by one of LA's top vegan chefs.
The special menu is available until the end of June, but the
best vegan dishes
will be on rotation all year long - a great little find if you're looking for a
healthy meal out.
The hotel's restaurant is laidback and casual; perfect for a easy first date.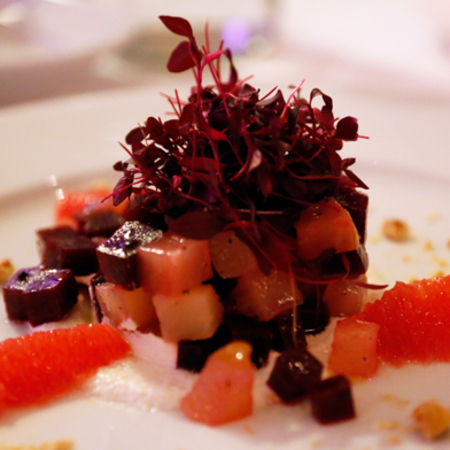 EAT?
Start with the beetroot tartar; a plate of colourful vibrant rainbow beets with grapefruit, crushed hazelnuts and macadamia cheese. The 'cheese' is rich and buttery, a perfect companion to the earthy,
raw vegetables
, and the dressing is just the right amount of zingy.
For main course try the blackened tofu with coconut mustard emulsion. We know tofu can be scary - but trust us, this tofu is like none before.
It comes with locally-sourced sprouting broccoli and purple heritage carrots which are brought to life with agave syrup and cardamon.
Healthy and indulgent
at the same; it's comfort food without the guilt.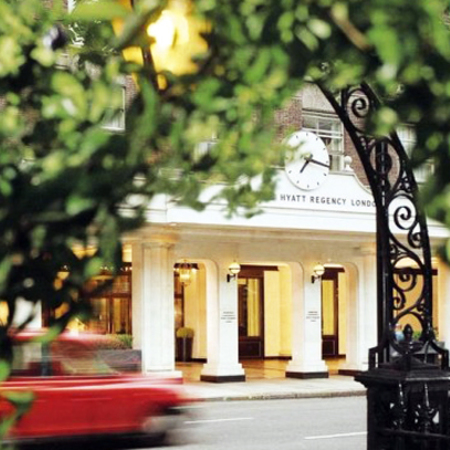 Finish with a trio of puddings. No, really. Try the 'cheeseboard' with hazelnut and macadamia cheeses, just for fun, and the amazing 'cheesecake' with cashew and a
raw dark chocolate base.
The pecan pie is served with dairy-free espresso ice cream, and you'd have no idea it wasn't the real thing. Round it all off with a overnight stay at the hotel, and we guarantee you'll wake up a new woman.
DRINK?
Ask the experts. Their waiters are all clued-up and attentive to your wine needs; opt for a nice white wine, sweet and fruity, to compliment the veggies. If you're feeling old school, they've also got a
classic cocktail list
; you never can go wrong with a G&T.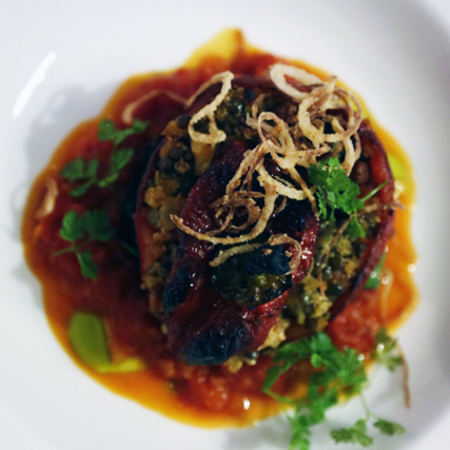 THE LOWDOWN
Taste of Vegan Earth Menu, £20 for two courses or £25 for three.
Hyatt Regency London - The Churchill
30 Portman Square, London W1H 7BH
london.churchill.hyatt.com
, 020 7486 5800
Angelica Malin is the Editor of Abouttimemagazine.co.uk
REVIEW: JUICY BURGERS AT MEAT & SHAKE
LONDON HOTEL REVIEW: BOUTIQUE MYHOTEL BLOOMSBURY
MORE GOING OUT REVIEWS