Why go?
This totally raw,
vegan restaurant
is the latest addition to Notting Hill's trendy foodie scene, serving up the latest craze to a distinctly
West London crowd.
The small all-white cafe is great day and night and offers some unusual, albeit surprising,
veg-based food
, including a totally raw lasagne made with fresh basil pesto.
They've got a takeaway counter if you're looking for a quick vegan wrap or
salad on the go.
Come here for a quirky first date where the food is guaranteed to be a talking point; the cafe's alcohol licence has just been approved, so it will be very much a
smoothie kind of night
until the organic wine starts flowing. Probably just what the doctored ordered.
EAT?
The starters are amazing; get the pretty sesame-adorned
miso soup
, and the Kohlrabi Ravioli which isn't pasta at all - layers of raw pink-skinned Kohlrabi filled with fermented nut cheese on a cabbage bed.
For mains the 'sushi' is a winner - filled with cauliflower rice and pickled veggies (saukeraut is
great for digestion
, apparently) - it
won't leave you feeling bloated
like white rice.
The
thai coconut curry
is a take on the classic asian dish, but made with a cashew nut sauce, chopped red pepper and coconut 'rice', it's a very pretty plateful.
The desserts are genius, using nuts and
natural sweeteners
instead of sugar; think a vegan Bounty bar with freshly desiccated coconut and cheesecake made with pecans. Order the raw blueberry pie; it's a pretty bright purple shade, and comes adorned with little flowers,
just asking to be Instagrammed.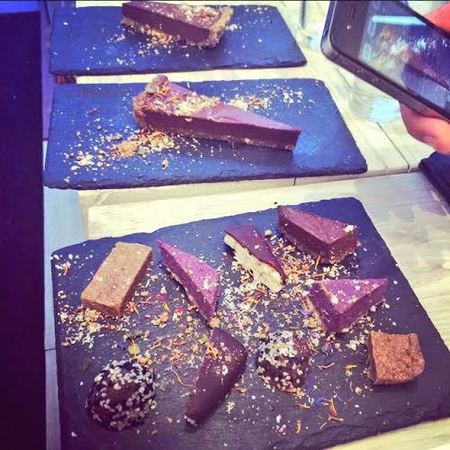 DRINK?
Organic wine and Prosecco will soon be available, but for the time being you'll have to enjoy one of their amazing
fresh juices or smoothies
; the pear, cinnamon and ginger smoothie has a spicy kick to it and will
boost your metabolism
before the meal.
The green juice
with parsley, kale and lime is great if you like your juices with a savoury edge. Don't leave without getting a latte with their never-ending list of
non-dairy milk
choices; almond, coconut, hemp, rice milk, the list is endless.
Lowdown
Nama Foods, 110 Talbot Road, W11 1JR, London
0207 313 4638,
namafoods.com
Angelica Malin is the Editor of Abouttimemagazine.co.uk
Got a hot restaurant tip? Tweet us
@handbagcom
RESTAURANT REVIEW: HEALTHY VEGAN FOOD AT HYATT REGENCY
CAN THE RAW FOOD DETOX DIET REALLY WORK?
MORE RESTAURANT REVIEWS