Why go?
If, like us, you can't hear the sound of a cork popping without clapping your hands and doing a little whoop (a habit we invariably picked up from our mums), get yourself down to Searcys at One New Change and prepare to raise a glass.
If you've ever stopped off at the St Pancras champagne bar (it's the only way to catch the Eurostar, schweedie) you'll already be familiar with the upmarket Searcys brand. And the good news is that their new branch by St Paul's Cathedral is just as swish.
Promoting the idea that fizz isn't just for Fridays, the bar is a mixture of dark shiny tables, a sexy circular bar, and black and white photos on the wall of people enjoying a cheeky flute.
The incredibly good-looking staff will happily talk you through the extensive wine list, and when your drinks are served, we promise you'll fall head over heels in lust with the tall elegant glasses.
The fizz on offer is delicious and within an acceptable London price bracket, meaning you can visit for a treat, or simply for a TGIF-reward.
Drink?
Champagne, of course. Leave the Nebuchadnezzars to the City boys and go for one of the very reasonably priced glasses of bubbly.
Tickle your tastebuds with the Tasting Trio on offer and enjoy three 50ml servings of classic champagnes, or say hello to Bubble Hour, where champagne cocktails and glasses of sparkling rose are available for £6.50 between 6-9pm.
Eat?
Goats cheese with fig and honey jam, dressed Weymouth prawns with olive oil caviar, and plates of Serrano ham all feel suitably light and luxurious. If you're just after nibbles, try the flavoured popcorn, which changes daily.
For ladies who lunch, there's a midday meal deal, which includes an open sandwich or hotdog with a glass of fizz for £10. How very civilised.
The low down
The champagne tasting trio is priced £18.50, while a glass of champagne outside of Bubble Hour is priced around the £12 mark.
Searcys Champagne Bar, One New Change, London EC4M 9AF. 0207 871 1213,
searcyschampagnebars.co.uk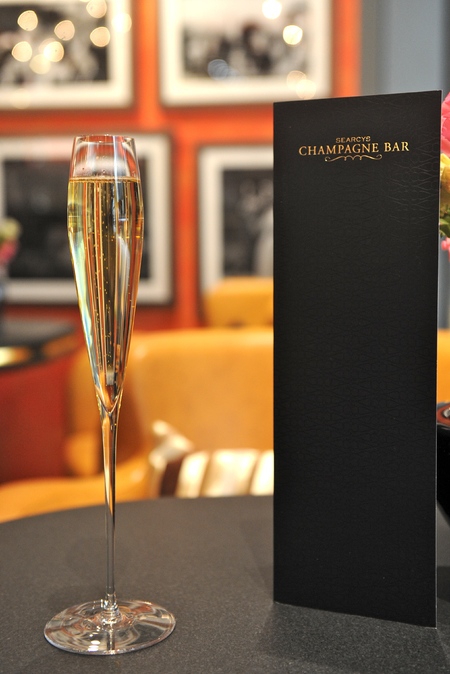 BAR REVIEW: CHAMPAGNE FRIDAYS AT HOTEL INDIGO
REVIEW: THEATRICAL JAPANESE FOOD AT WABI
REVIEW: AFTERNOON TEA AT REFORM SOCIAL AND GRILL