Why go?
The 1920s are going to be huge this summer thanks to the release of Baz Luhrmann's
Great Gatsby
extravaganza. Get ahead of the trend by borrowing your grandmama's vintage jewels, donning a cloche hat and making a date with The Luggage Room.
The bar is a classy affair from start to finish. Situated on the corner of the très chic Grosvenor Square, you'll find a small black door next to the Mariott Hotel. Announce your arrival using the heavy brass knocker and you'll soon be whisked through to a dark lacquered table and some rather swelligent drinks.
The spirit of the Roaring Twenties is evoked through the loveliest décor – part train carriage, part elegant gentleman's drawing room. The well-stocked bar gleams with intriguing bottles, while the dark leather sofas and strains of jazz really do seem to transport you back in time. At this point, it's totes appropes to pretend you're a particularly fabulous F.Scott Fitzgerald character.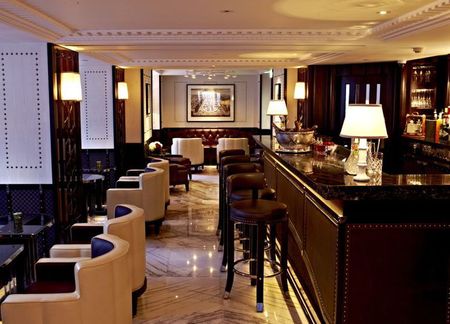 Drink?
The drinks menu is different to your usual cocktail-fare, with highballs and martinis joined by cobblers, cups and punches. It's all incredibly charming. They call it The Luggage Room – we wanted to pack our bags and move in.
The eponymous Luggage Room Cocktail combines vodka, campari and rose syrup and is topped with a fragrant basil leaf. Meanwhile, the zingy Tree Top Daiquiri mixes rum with pine syrup and lime juice.
If you can wrap your tongue round the name, try the 'Baron Andre d'Erlanger Martini'. Mixed with either voddy or gin, add vermouth, grapefruit bitters and Absinthe. It's lethal but good – Gatsby would approve.
Eat?
We tried the salty pork scratchings (unbelievably moreish) and the blue cheese and crème fraiche dip with sourdough (mouthgasmic). Both were perfectly pitched to accompany the drinks. If you're bedding in for the evening, try the pork pie with English mustard, and the salmon scotch egg with caviar sour cream.
The low down
Cocktails £12.50, bar food from £6.
The Luggage Room, Grosvenor Square, London, W1K 6JP. 0207 5141507,
luggageroom.co.uk
LONDON BAR REVIEW: SEARCYS CHAMPAGNE BAR
BAR REVIEW: CHAMPAGNE FRIDAYS AT HOTEL INDIGO
REVIEW: THEATRICAL JAPANESE FOOD AT WABI