Why go?
Brunch is one of our favourite meals. Not only do we get to drink cocktails during the day, but we also get dessert. What's not to like?
Asia de Cuba has hit the fusion nail on the head – combining not just breakfast and lunch, but also the Orient with South America. It's fusion-squared, and it works.
The restaurant is housed inside the uber-cool St Martin's Lane Hotel in London – which from the outside looks like a giant unmarked cube. (We're almost too embarrassed to admit we walked straight past it. Twice.)
Once you've found it and made your way to your table, marvel at the cool décor. White linen tablecloths are offset by low-strung Conran-shop filament lightbulbs, lightwood bookshelves wrapped around columns, and designy-looking chairs and sofas.
Enjoy the sounds too – live artists play Latin-style music as you dine.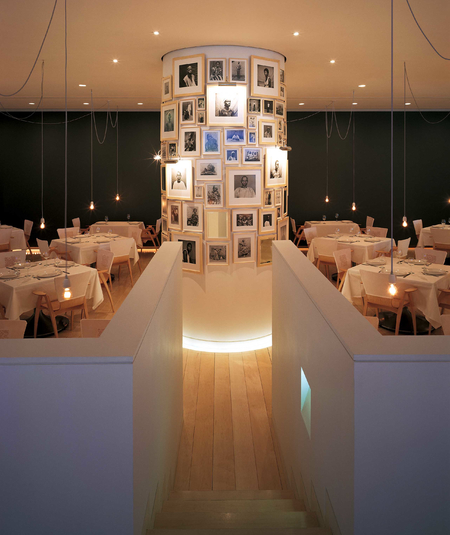 Eat?
We were properly excited just looking at the menu. Seabass, corn and thai basil dumplings, tiger prawn potstickers, and black bean croquetas? Oh my!
And we weren't disappointed. Steaming wicker baskets arrived with parchment-thin parcels of miso black cod and snow pea, which melted in the mouth. Steamed oxtail and kimchee dumplings were spicy and devoured in seconds.
The pot roast pork belly buns were as good as ones we've eaten in China, with featherlight dough and a salty/sweet filling. And our unexpected favourite dish was the baby calamari stuffed with Cuban pork sausage. While it resembled a wee haggis, it tasted ahmayzing.
We finished with a couple of scrummy desserts – Cuban doughnuts with dulce de leche sauce (Get in our bellies!) and Kahlua-glazed chocolate brownies and ice cream.
Drink
The ideal brunchtime drink is one that makes you feel warm and fuzzy, but still allows you get the tube home later – and Asia de Cuba's fruit-to-booze ratio was spot on.
Try the zingy Dragon's Twist – a blend of Pisco, lychees, dragon fruit, elderflower liqueur and ginger beer, or the moreish Spiced Mango – pear-infused sake, shaken with fresh mango, chilli basil sugar and lime.
We can also recommend the Mambo King, which is far less masculine than its name would suggest. Blending raspberry vodka and fizz, it's served with pink sugar round the rim.
The low down
Sunday Brunch is served from 12-5pm. Dim sum from £5, and cocktails are £12.50.
Asia de Cuba at St Martin's Lane Hotel, 45, St. Martin's Lane, London, WC2N 4HX
020 7300 5588,
stmartinslane.com
LONDON BAR REVIEW: SEARCYS CHAMPAGNE BAR
REVIEW: PING PONG & PIZZAS AT BOUNCE
REVIEW: AFTERNOON TEA AT REFORM SOCIAL AND GRILL