Why go?
Growing up in the 90s, two things in life were certain: (1) The boy you fancied had a curtain haircut and (2) The Spice Girls were the hottest girl band on the planet.
And while some things have changed (Curtains? Pah! Far too 'Gareth-from-The-Office') – the Spice Girls are still hot.
Thanks to their appearance atop a London bus at the Olympic closing ceremony last year, and the launch of the Viva Forever Musical, the fab five have been enjoying something of a renaissance.
To celebrate, the Fifth Floor Bar at Harvey Nichols created a Spice Girls-themed range of cocktails. They've calculated (quite rightly) that anyone who was singing Wannabe and drinking Panda Pop in 1996 has now graduated to quaffing something stronger.
The Fifth Floor Bar is an ideal location to clink glasses with your girl friends. Take the Harvey Nicks express lift to the top floor and you'll find it tucked away in a quiet corner. Plush sofas, funky chandelier lighting and cracking views down Knightsbridge make it feel swish, but still comfortable.
Unless he's incredibly game, leave your boyfriend at home. Cackling over Spice trivia and making 90s-vintage jokes about Golden Balls are best done with your mates.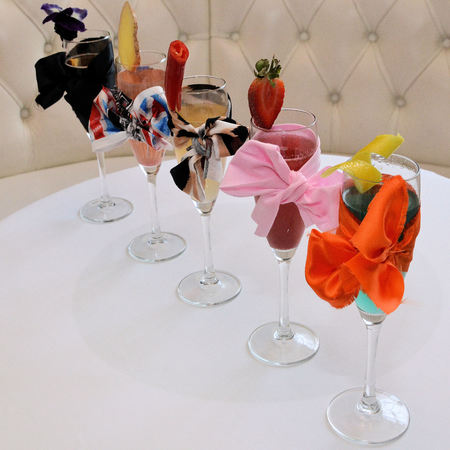 Drink?
Ordering takes us back to the 'Which Spice Girl are you?' conversations of our youth. Each of the five champagne-based cocktails highlights one of the Girls' most famous traits – so try the one you feel is truly representin'.
We started with the Baby Spice, which was a bellini-style mixture of peach puree, fresh strawberries and fizz. According to the barman, it's been the most popular – though we found it a touch too sweet.
The Sporty Spice (a blend of amaretto, curacao bleu, champagne and lemon juice) fared better, especially when we realised the drink's hue was identical to the Adidas trousers Mel C wore in the Wannabe video. Nerd points!
The Scary Spice was a punchy mix of lychee liquer and a fresh chilli, resulting in a zingy finish. And we particularly enjoyed the Posh Spice, which classily combined apricot brandy, champagne and a sugar cube soaked in grapefruit bitters. (Turns out we're not too posh to get sloshed.)
Best of all was the Ginger Spice which blended ginger liqueur and rose syrup and was the perfect balance of spicy and sweet.
Finishing up, we tried to make a joke about having Spiced Up Our Lives, but by that point it became clear that we'd had too much.
The low down
Cocktails are priced at £14.50 each and available until the end of April.
Viva Forever, Champagne Bar, Harvey Nichols, 109 - 125 Knightsbridge, London, SW1X 7RJ
harveynichols.com/restaurants/fifth-floor-london
RESTAURANT REVIEW: SUPER TUSCAN
REVIEW: GIZZI ERSKINE AFTERNOON TEA AT W
REVIEW: HOUSE OF WOLF APOTHECARY BAR