Why go?
If lacklustre chain-restaurants have dampened your enthusiasm for sushi, let K10 restore your faith.
This conveyor-belt sushi joint by Liverpool Street offers walk-in lunches and dinners that are smart enough for the nearby suits, but fun enough for us, too.
Building upon the success of its takeaway-only sister site, here it's less about scoffing sashimi before heading back to work, and more about grazing on gyoza once you've clocked out.
A note on the name – it's a play on the word 'Kaiten', which is Japanese for conveyor belt. We reckon the one in K10 has to be the longest in London – boasting 47m of length and a capacity of 280 plates when full. Be aware that it takes a full 12 minutes to make one circuit, so don't dilly-dally If you see something you want.
We love adding new places to our list of PDVs (Potential Date Venues), and this is one of them. It's relaxed, you've got a ready-made talking point, and your side-by-side seating means you don't have to make awkward eye contact. Just don't blame us if your food is more interesting than your beau…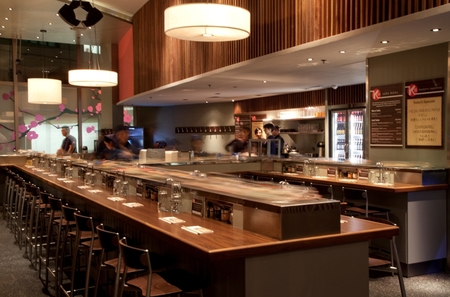 Eat?
Have a look at what's going round and grab what you fancy. The most expensive plates are £7.50, but there are plenty of others towards the lower-end of the spectrum, with the cheapest starting at a very sensible £2.
We grabbed an avocado-topped dragon roll with eel, which was both salty and sweet, and very tasty. This was followed by a plate of moreish salmon ceviche with crispy grated sweet potato, plus a pile of meaty red tuna with coriander pesto, and a beautifully-battered bowl of chilli baby squid.
You can also order from the menu. Don't leave without trying the unbelievably light vegetable tempura and the fit-to-bursting soft shell crab handroll.
We also really rated beef carpaccio. The peppery slices of pink-middled sirloin steak combine 20 ingredients including mirin, ginger and soy, and takes four hours to cook. It was served with a pile of crispy taro roots, which may look like hamster bedding, but taste great.
In fact, we loved these crispy fronds so much that the chef took us into the kitchen and showed us how they're made. Forget your dinner-lady-style fish fryer – this baby is a traditional heavy-bottomed steel wok that has to be controlled by hand to get the perfect temperature.
Once we retook our seats, we were ready for dessert. The green tea mousse was light and fresh, and we'll be heading back for a taste of the squidgy mochi balls.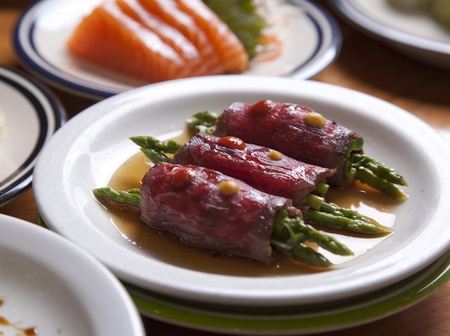 Drink?
Yes, you could go for a glass of very nice white wine, but we recommend trying one of the bottles of sake. You can have it either hot or cold, and it comes presented in its own wooden cradle. How sweet.
We started with a light and flowery Masumi (£17.50) and moved on to a commendable sweet and fragrant Dewazakura (£19.50).
The Lowdown
Sushi plates range from £2 to £7.50. Bottles of sake from £15
K10 Broadgate, 3 Appold Street, London, EC2A 2 AF
0207 539 9209,
k10.com
5 KIDS PARTIES TO BRING BACK AS ADULTS
REVIEW: DIM SUM BRUNCH AT ASIA DE CUBA
RESTAURANT REVIEW: SUPER TUSCAN