Why go?
What would we do without modern American exports eh? There'd be no
Homeland
for one. No Leonardo DiCaprio. No tourists wandering around London in white ankle socks and baseball caps. Bummer, as they say.
There'd be no Christopher's either. This bar and restaurant was originally opened in Covent Garden in 1991, and bills itself as one of London's original American restaurants. Now, after a three-month refurbishment, it's open for business again, and harking back to the heady-glamour of the Modern American era.
We visited the martini bar on the ground floor, which has a smart, lounge feel to it. There's a mirrored bar, a forest-green quilted ceiling and dark marble floor. Oh, and mirrors everywhere. We keep catching our own eye. Giving ourselves an Joey Tribbiani-esque 'How you doin'?' seems wholly appropriate. And this is before we'd even had a drink. Oh dear.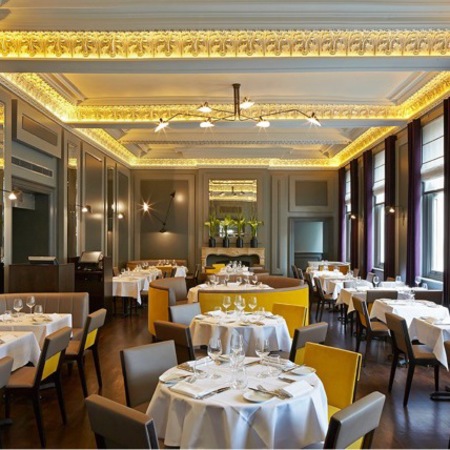 Drink?
We love the extensive martini menu, which is split into classic, contemporary and decadent. In case you didn't know, (we didn't) for a drink to be classed as a martini, it has to include gin and vermouth – though some versions substitute the gin with vodka.
If that sounds too heady, Christopher's plays fast and loose – serving a section of drinks billed as martinis, but deviating from the gin/vermouth marriage.
They all certainly look good. Our Martinez was served in a frosty glass and came with an impressively long peel of lemon. Considered to be the original martini, it's a mix of gin, vermouth, orange bitters and a dash of maraschino – and has quite the kick
We tried to avoid ordering a non-martini martini called a 'Nice Pair' in the style of Carry On. It's not technically a martini, as it doesn't have any vermouth in it. It's very subtle. If you're on a date and want to keep your wits about you, this is for you.
If, however, you want to throw caution/your knickers to the wind, go classic and choose a dirty martini. If you want your drink to kick you to the kerb…Yikes. This was drrrty, Christina-style. We felt like we needed a sugar lick to balance the olivey sourness.
By the end of the evening, we felt very
Don Draper
. By which we mean drunk. Our notebook scribblings from the night continue to baffle us. We've underlined 'Re-establishing the establishment'. Any guesses?
Eat?
Bar snacks are imperative when boozing like a trooper. We ordered a selection of bites, including grilled squid, a selection of sliders and a plate of something called 'Chicken 'n' Biscuits'.
When the chicken arrived, our eyes lit up. These were the poshest, most delicious chicken nuggets ever. With honey mustard dressing, they were crunchy, crispy, battery and buttery.
The sliders arrived with buns like jaunty caps and were quickly demolished – though the controversial inclusion of raw red onion meant we had to forgo any after-dinner snogs. At least there was a gooey chocolate brownie to make up for it.
The lowdown
Cocktails from £9, bar food £6-18
Christopher's, 18 Wellington Street, Covent Garden,
 London WC2E 7DD
020 7240 4222,
christophersgrill.com
RESTAURANT REVIEW: MASH, LONDON
ROBERTO CAVALLI'S GUIDE TO BEING A PARTY ANIMAL
REVIEW: THE TRUSCOTT ARMS, LONDON