Why go?
We love a good bumpkin, we do. It puts us in mind of Alice from the Vicar of Dibley, which in turn makes us want to say the word 'bumpkin' over and over again in a West Country accent. It's very satisfying. Who says we don't know how to have a good time?
Bumpkin, the restaurant/gastropub, is similarly satisfying. Though it's situated next to a petrol station in South Kensington, you can forget your urban surroundings once you're inside. This is partly due to the green-filled window boxes on the windowsills, the tables with knots in the wood and the country manor embroidered wallpaper.
With all the exposed brickwork and vintage lamps, you could shoot a Boden catalogue here. That's how country it is.
Bumpkin is a celebration of British food, but it doesn't overstate it – it's not kitchy or in your face. It's the sort of place you'd bring a friend from abroad to give them a taste of the British Isles and to prove that we subsist on more than just a diet of battered sausages and curry.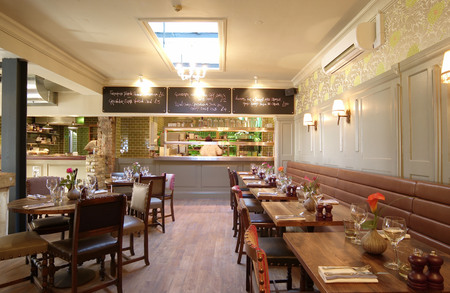 Eat?
The layout of the menu is clever, with sections divided into farm, field and shore. Our starter of breaded cod cheeks looked like a Jackson Pollock painting with splashes of sea vegetables and oyster shell 'dishes'. The oyster mayonnaise added a salty taste of the sea.
Meanwhile, a salad of smoked Gressingham duck had all the flavours of the garden, with succulent meat, tart rhubarb and the surprisingly complimentary addition of pink grapefruit.
Our main dish of grilled pork chop with an apple and parsnip cider-glazed tartlet was attractive and simple seasoned. The meat was tender, with a crisp margin of salty fat, while the tartlet gave a sweet tang – demonstrating why pork and apple truly are the Torville and Dean of flavour combos.
A fleshy fillet of roast cod came with delicious 'scorched cauliflower' and was topped with a piquant salad of winkles, whelks & sea beets.
For pudding we tried sweetly grilled strawberry skewers, served with fluffy, flumpy marshmallows and a pot of frothy yoghurt. Then, with extreme self-control, we said no to the Cartmel sticky toffee pudding (too filling) and instead went for the lighter semi semi-freddo chocolate slices with tooth-melting honeycomb. No regrets, it was delicious.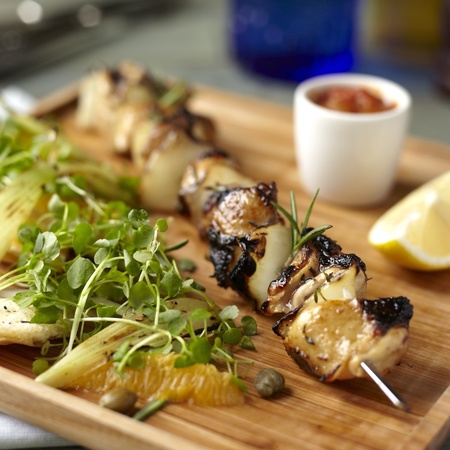 Drink?
You'll think you're at a garden party with the cocktails on offer. Our Apple Crumble (whiskey, fresh apple juice & butterscotch) was fruity and sharp, while the Rhubarb and Lemon Fool looked sensationally cute, with a frothy lemon foam atop a rhubarb liqueur.
Bumpkin has a couple of English wines on the menu, but if you're looking for a red, we'd recommend the Argentinian Malbec and the French Beaujolais village.
The lowdown?
Dinner for two with wine £95, Cocktails from £7.50
Bumpkin (South Kensington), 102 Old Brompton Rd, London SW7 3RD
020 7341 0802,
bumpkinuk.com
There are two other branches of Bumpkin in Notting Hill and Stratford. Visit the website for details.
BAR REVIEW: DRINKING MARTINIS AT CHRISTOPHER'S, LONDON
RESTAURANT REVIEW: MASH, LONDON
ROBERTO CAVALLI'S GUIDE TO BEING A PARTY ANIMAL