It must be nice to be the Royal baby. Access to the softest teddy bears, Grandma Carole on-call to attend to your every whim, and a cute little commonwealth to call your own. Not bad for someone less than a week old.
And Kate must be feeling a bit smug (let's be honest - we know we would). Of course, if we'd spent the hottest day of the year flat on our backs grunting and trying to push out the future heir, we'd want a little treat. Do Royals get push presents? Perhaps someone should take her to The Balcon - they're celebrating the new arrival with a super-duper fit-for-royalty afternoon tea.
We fell in love with the venue as soon as we walked in - Parisian decor, roomy tables, trendy modern lighting, heavenly air conditioning...
There's also a sweet little Juliet balcony level, housing the restaurants wine stash, situated above diners heads and reached by the staff using a romantic wrought iron staircase.
The staff themselves were Buckingham-Palace-friendly and efficient. If they could have curtseyed to us as we arrived, we think they would. We could get used to this.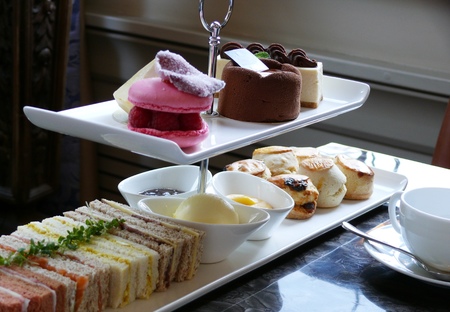 Eat?
In the same way that Wills and Kate are a new breed of royal, so is The Balcon's afternoon tea. All the classic ingredients are there, but they've got a fresh modern twist.
Our two-tiered white rectangular cake stand delivered a range of five-bite sandwiches, including cucumber (natch), roast beef (delicious) and a filling we'd fittingly describe as coronation egg (it's like a curried egg salad).
Meanwhile, the miniature scones (three each!) were fluffy and bready and came with tangy lemon curd and a rose-scented raspberry jam.
The real delight, though, was the patisserie selection. Like something you'd find in a Parisian bakery, there was a white chocolate and passion fruit dome, a pistachio and chocolate slice, a strawberry sponge confection and a sweet, chewy pink macaron.
On their own, each would have been a tasty little work of art. As a set, they really had the wow-factor (not to mention the 'Oh my I couldn't possibly manage another one oh wait yes I can' factor).
Drink?
The afternoon tea comes with the option of champagne, and it seemed somehow disrespectful not to indulge. We raised our glass and congratulated the Royal Fam (as well as ourselves).
We also rated our Vietnamese green tea, which came loose-leaved and served in a sweet Terracotta Army-esque individual teapot.
The lowdown
Afternoon tea is priced at £24.50, and £29.50 with a glass of Champagne.
The Balcon, 8 Pall Mall, London SW1Y 5NG
020 7968 2900;
thebalconlondon.com
RESTAURANT REVIEW: THE HAPPENSTANCE, LONDON
CAN YOU STILL EAT AN NANDO'S ON A DIET?
BOOZE FREE BAR SAYS YOU DON'T NEED ALCOHOL TO HAVE FUN