Why go?
Thank you Ludacris. Without you we wouldn't be able to describe the beautiful dichotomy of being both a lady in the street AND a freak in the bed. And without that, we wouldn't be able to describe TOZI either - because, when you replace the words 'street' with 'table' and 'bed' with 'kitchen' that's exactly what this restaurant is.
In case you hadn't guessed, this is a really good thing. TOZI is the sort of place where we imagine loud, messy, foody things happening in the kitchen (massive red tomatoes, great glugs of oil, cheese everywhere...) while the table we sit at is all sweetly demure glassware and blonde wood.
Ingredients go into the kitchen as boisterous Italian stallions and emerge on dinky plates - filleted, arranged and served like they're going to chiesa with mama on Sunday morning. Somehow it's rustic and chic at the same. And we like it.
The restaurant reminds us Italy circa 1970 - all San Pellegrino and Vespas. It has little potted orange trees (of course). It has a pizza oven (joy). It also has staff that look like they've stepped out of the background of a Woody Allen film set in Rome. Overall, we could get very comfortable here.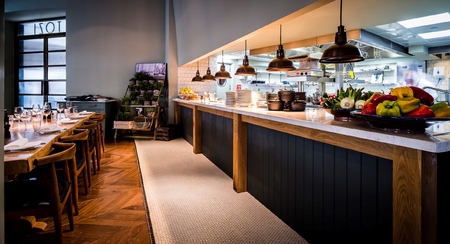 Eat?
Full disclosure - we love Italian food. Really love it. So when we saw the cichetti menu (it's the Italian version of tapas), we went a little crazy and ordered a lot. The food comes out when it's ready, so we'd recommend ordering a few plates and working your way through them.
We started with some crisp and oh-so-cheesy stonebaked pizzetta, generously topped with mozzarella, salty anchovies, olives, and pungent oregano. Meanwhile, a wobbly marble mound of burrata was served with a tricolore of tomatoes and fresh peppery basil and made us swoon.
A plate of soft shell crab with parsley sauce weirded out our friend (something to do with the legs) but this just meant there was more for us. Salty, crunchy and fresh, it tasted like the sea. We also liked a platter of pork and fennel, which was thinly-sliced and flavoursome.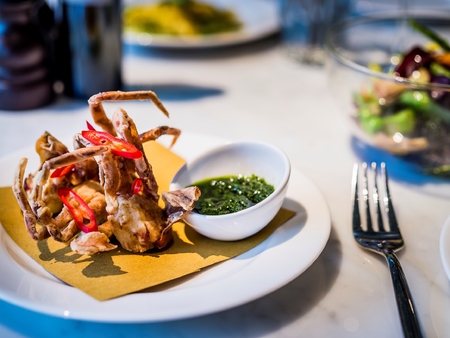 Unsurprisingly, the pasta dishes were molto bene. A plate of gnocchi was melt-in-the-mouth creamy and piping hot, while our duck ragu fell apart in the most delightful way. We also declared undying love to a bowl of dreamy yellow ravioli, topped with shavings of truffle.
We finished with a lovely, bubble zabaione and much happy sighing.
Drink?
Play it cool and choose a simple and sophisticated Italian tipple. TOZI cocktails are clean as whistles and as neat as smartly-pressed D&G suits. An acute attention to detail means that even a simple G&T comes with refreshing cucumber ice cubes.
Our 'Miss Negroni' had all the bitterness of the campari and gin, but with a sweetness from Chambord and fresh blackberries. Meanwhile, the Sexy Sofia - vodka, elderflower, pear juice and rosemary - was light and fruity. We also really rated the signature Tozi spritz - aperol, fresh watermelon, prosecco and soda.
The lowdown
Dinner for two £60 (excluding drinks), Cocktails from £7
TOZI, 8 Gillingham St London, Greater London SW1V 1HJ
020 7769 9771,
tozirestaurant.co.uk
BAR REVIEW: PLEASED TO MEET YOU, NEWCASTLE
SEE INSIDE DAVID BECKHAM'S NEW RESTAURANT
REVIEW: BRITISH AFTERNOON TEA AT THE BALCON, LONDON