Why go?
God bless Italians. As a nation there's none of the shyness so typical of Brits, none of the snootiness of the French, none of the lederhosen-wearing-singing-on-a-mountain-while-remaining-neutral-ness of the Swiss. Italians are loud, they're proud.
And Fornata is loud in the most wonderful way. We don't mean braying City loudmouths - it's rowdy in the way a scene from
West Side Story
is rowdy. It's all friendly gesticulation and passionate peons to
pizza
. A loud hubbub of chatter and laughter. If the restaurant could bottle and sell ambience, they'd be laughing. Loudly.
The name fornata comes from the Italian word 'forno' for oven, and describes the contents of menu. It also accurately describes the feel of the place too - there's a pleasant cosiness to the table setup and bar area. And our Italian waiter is warmth personified, describing himself as an ambassador for Italian food and Italy as a whole. It's all very charming.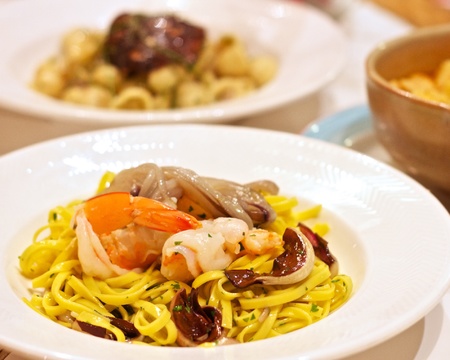 Eat?
The food at Fornata focuses on
oven-cooked dishes from southern Italy
that are designed for sharing. According to the website, the oven was an important part of Italian village life as far back as Roman times, where villagers would rely on one communal oven for all their cooking, using it on a rotational basis, swapping bread for meat and vegetables later on in the day.
An aubergine bake with melted stringy cheese disappears in seconds, as do three
slices of bruschetta
, topped alternately with fresh garlicky tomatoes, roasted peppers and thick and creamy chickpea puree.
The waiter recommends a basket of crisp rosemary flatbread which tastes summery and fresh, plus some gorgeously hot cheesy bites from Northern Italy. It turns out they're pieces of mozzarella baked inside a thin layer of pizza dough and served brushed with garlic butter. We also try some very good arancini which are cheesy, creamy and very filling.
Meanwhile, a plate of
crisp-skinned sea bass
with salty olives and a lemon zing is very good. Like a childhood trip to Sardinia on a plate. A bowl of ravioli with pumpkin and amaretto has become our new favourite comfort food. The booze wasn't overpowering, but gave a soft sweetness. We had both of these with a little zinc bucket of deep fried and salty courgette strands and a plate of garlicked green beans.
We finish with a selection of desserts - a creamy scoop of citrus-infused
panna cotta
with berries, a richly dense chocolate fudge cake and a light slice of tiramisu.
And then of course, because we are living la dolce vita, we have a digestif in the form of a limoncello sorbet. It's excellent - boozy, refreshing, and lip-puckeringly sour. Definitely worth shouting about.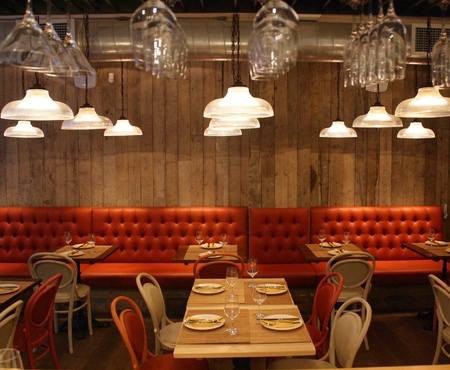 Drink?
Have you fallen in love with negronis yet? We have. There's something about the sweet/bitter combo that tastes so good. Try an aperol spritz too. Topped with prosecco, it's light, bright and guaranteed to put you in a good mood.
We like the fact that the bar at Fornata is open until 1am, making it a good choice for late-night cocktails before stumbling off to
explore Soho's nightlife.
The lowdown
Dinner for two with drinks £70
Fornata, 15 Kingly St, London, Greater London. W1B 5PS
020 8181 8887,
fornata.com
LEARN ABOUT LOVE & ITALIAN COOKING AT VILLA SAN MICHELE, FLORENCE
RESTAURANT REVIEW: TOZI, LONDON
READ ALL OUR GOING OUT REVIEWS