Tuesdays are the new Thurdsays – or at least that's what it looks like at Novikov's latest opening on Brompton Road, London.
Don't let the word 'Brasserie' fool you. Walking in to BAB is almost nothing like walking into Café Rouge. Think nightcubby black and red decor, low light, and music with beatz. There's also a bar downstairs which looks cool – and seemed to be chock full of beautiful people just lolling around looking fit.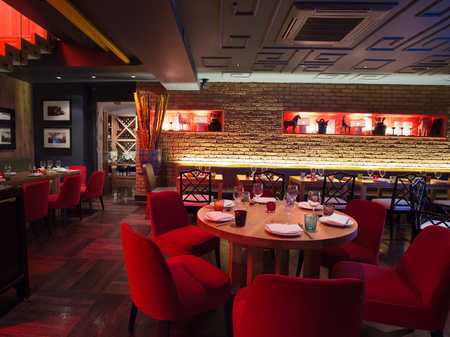 As you'd expect for Knightsbridge, the restaurant provides an excellent opportunity for people-watching – especially if you can grab one of the two tables by the windows at the front. We ogled a red Lamborghini parked outside and tsked as a young guy in
designer jeans
jumped in, revved the engine and zoomed off at a speed Boris wouldn't be happy about.
Eat?
At first glance, the menu seems overwhelming, with a range of
dim sum
,
sushi
, salads, and steaks all jostling for attention.
But once we started thinking of it like a posh Wagamama (order a selection of bits and wait for them to come out of the kitchen), we were on our way.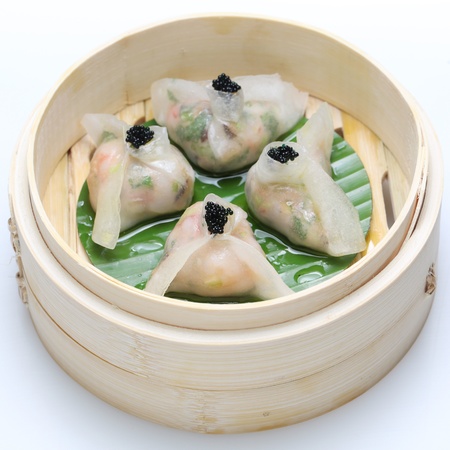 Pork and prawn shui mai looked so sweet nestling in their wicker baskets, while and pork and bamboo shoot ha gao were fresh, tasty, and authentically light. We loved a plate of paper thin yellowfin in a salty yuzu, preferring it to a dish of slightly-too-fishy tuna tartare with caviar.
Full marks went to the crispy black cod rolls with mango sauce. They were done up to look like pieces of sushi, but cleverly tasted like an Asian version of
fish and chips
. Meanwhile, a plate of braised short rib in soy, ginger and chilli was delicious and big enough fell a man.
We finished with a heavenly passion fruit creme brûlée, topped with tangy mango sorbet, plus a
chocolate fondant
that elicited a little shiver of pleasure with its melting middle.
Drink
If you'd usually grab a beer, switch it up and order a bottle of hot sake instead. We had a banana-y Dewatsuru Honjozo. Of course, if you're planning to drive home in the Lotus Elise parked outside, you ought to stick to the
non alcoholic
mint and kiwi mojito - it's fresh and delicious, and like everything else around the place, it looks amazing.
The lowdown
Dinner for two with drinks £120
Brompton Asian Brasserie, 223-225, Brompton Rd, London, SW3 2EJ
020 7225 2107,
bromptonasianbrasserie.co.uk
RESTAURANT REVIEW: BISTRO UNION, LONDON
BLAKE LIVELY TURNS FOODIE WITH NEW WEBSITE
MORE RESTAURANT REVIEWS AND RECIPES