Why go?
We're a sucker for anything Italian. From Prosecco to Pavarotti, and even those adverts where
George Clooney
pretends to be European to sell little pods of
Italian-style coffee
. So when we heard about Tinello in West London, we were on the phone booking a table faster than you can say "George, didn't you used to be a proper actor?"
Tinello isn't your
typical Italian restaurant.
Or, at least, it's a classier type of Italian than those on the high street offering lunchtime pizza and dough balls.
There are no imitation murals on the walls, no grapes hanging from the ceiling, no waiters dressed in gondola-boatman stripes (Pizza Express, you know we're looking at you). In fact, there's nothing in the decor to suggest it's Italian at all.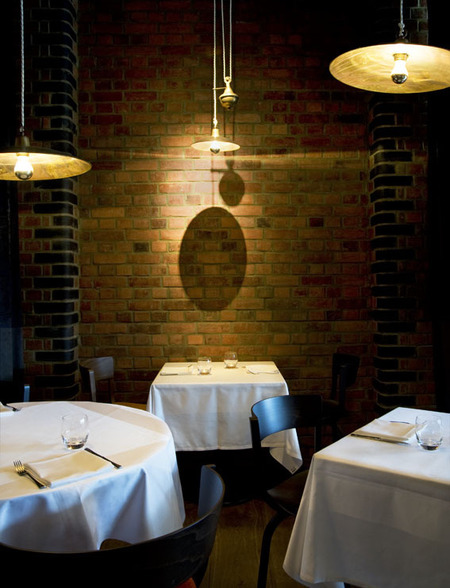 Half of the walls are
Shoreditch-style
bare brickwork, while the other half are all luxe statement black cubes with a mirror effect. It's like Tinello's Dalston designer was murdered and replaced halfway through by
Tom Ford.
If that makes it sound bad, we don't mean it to. It's all very tastefully done. We rate the comfy designer chairs and the sleek modern lighting that whispers "expensive". You might not know you're in Italy, but you can't forget you're in
West London.
What to eat?
We knew we were on to a winner when our peperoni friggitelli arrived - the soft, salty green peppers tasted faintly like fresh popcorn and made us wonder
what else vegetarians are hiding from us
. They went fantastically with a dish of creamy burrata and pomegranate.
Then, because when in Rome, we prepared for our main course with a
pasta dish.
We enjoyed a bowl of gnocchi with creamy mushrooms good enough to daydream about. Forget anything you'd cook up yourself at home; these were melt-in-the-mouth mini marshmallow bites, drenched in butter.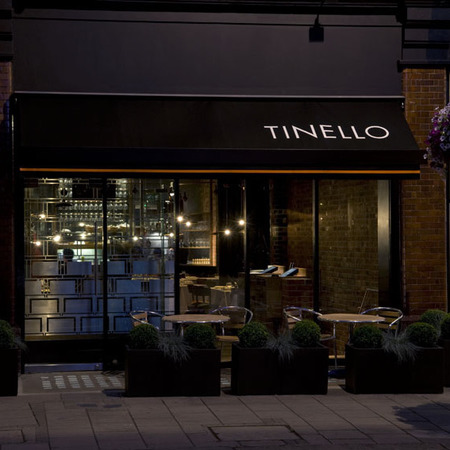 We also demolished a bowl of
thick tubular pasta
, dressed with sausage paste (it's called 'nduja and it's wonderful) plus more burrata. It's spicy, richly tomatoey, and has a creamy bite, courtesy of the cheese.
"This must be how Marlon Brando got so fat," we think to ourselves as we push another delicious forkful into our mouths.
Our
fish dish
(griddled sea bream with warm carrot, orange and ginger coleslaw) comes as a relief to our belt buckles, but holds its own in terms of flavour and presentation. It also gave us enough of a breather to prepare for a plate of ducky-tasting roast squab pigeon, pickled radicchio and the most luxurious lentils we've ever tried.
For pudding, we recommend the "Cantucci e Vin Santo" - a fancy way of saying biscuits and booze.
What to drink?
Start with geographically-appropriate Prosecco (why wouldn't you?) before moving on to Tinello's substantial wine list. It has to be Italian, so try the the Dolcetto D' Alba, which tastes like raspberries, and the Montepulciano which is dark, opulent and fruity.
The lowdown
Dinner and drinks for two £130
Tinello, 87 Pimlico Rd, London, SW1W 8PH
020 7730 3663,
tinello.co.uk
DIM SUM AT BROMPTON ASIAN BRASSERIE, LONDON
BAR REVIEW: DRINKING MARTINIS AT CHRISTOPHER'S, LONDON
MORE RESTAURANT REVIEWS