Why go?
The Universe is a cruel mistress. Not only is now the time we most need a
holiday somewhere hot and sunny
, but it's also when we're unable even to afford the Megabus ticket to Cardiff.
Well it seems like the Universe got bored of our moaning and chucked us a bone, because we've found something that's
better than a holiday
- Drakes Tabanco.
This Spanish sherry bar and restaurant is an unassuming little place, tucked just off Charlotte Street. Inside, you'll discover artisan dark wood, white washed walls and sherry barrels stacked high enough to make you feel like you're part of the Gunpowder Plot.
Drakes is inspired (the clue's in the name) by Sir Francis Drake, who apparently kick-started the sherry industry in Britain after returning from a 1587 raid on Cadiz with 3,000 butts of illegal sherry.
And we're glad he did. From the warm welcome by our waiter, to the food, and the novelty of ordering sherry with every course, Drakes has earned a place in our
Little Black Book of date venues.
Trust us, everyone is funnier after a few glasses of fino.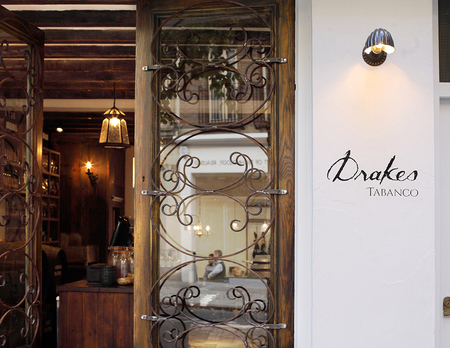 What to eat at Drakes?
Unsurprisingly for a Spanish joint, Drakes has a
hearty tapas menu,
including charcuterie, small plates, boards and large plates to choose from. We knew we were onto a good thing when a plate of smoked, slivered scallops arrived alongside a slash of
green avocado puree.
It was demolished in seconds.
Next was a generous platter of seafood, featuring salmon, cured sardines, mackerel pâté, cockles, Andalucian prawns, and Mojama (salt-cured tuna) with almonds. Every bite had us wiggling our eyebrows and going "ooohm!" like we were in a food-themed
Carry On
film.
We tried a plate of pork tongue, which sounds gross but looks beautiful and tastes even better. Imagine a cross between a rose petal and the specimen on a blood slide - then add the taste of a thin salty piece of
pork crackling
. Delicious.
One of our favourite dishes was a dreamy plate of braised pig cheeks cooked in sherry with hazelnuts, and served on potato purée.
The trick to eating at Drakes is to be open-minded and trust that everything is going to taste amazing. The goose rillettes didn't look like much (a little… gloopy) but they were full of flavour and paired beautifully with sharp caperberries.
We finished with a
chocolate tart
and mascarpone, plus a classic Spanish pud - vanilla ice cream topped with Malaga raisins and rich, sticky sherry.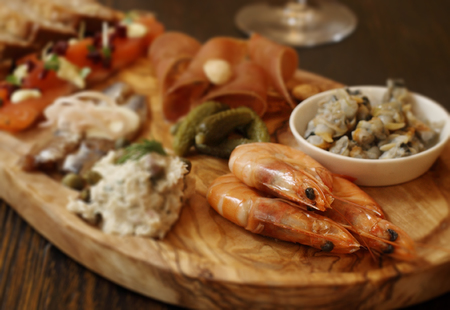 Drink?
In the finest Tabanco tradition, Drakes serves its sherry straight from the barrel, because (and this is the kind of purely scientific statement we like) "it tastes better". We're inclined to agree. The sherries we try come chilled in a wine glass and are as long-aged and
full-bodied as a wine.
We recommend starting with something dry (the Fine en Rama Especial goes splendidly with salty olives) and working your way through to something darker and sweeter.
The Amontillado is a real easy-drinker, while sweet wine fans will enjoy a glass of dark and nutty Oloroso (which means "scented" in Spanish). Don't leave without sampling some Pedro Ximinez. It's sweet and creamy and tastes exactly like boozy raisins. You'll love it.
The lowdown
Dinner and (a lot of) drinks for two £120
There's also a really well-priced pairing menu for £55.
Drakes Tabanco, No 3 Windmill Street, London, W1T 2HY
020 7637 9388,
drakestabanco.com
REVIEW: A TOO COOL ITALIAN FEAST AT TINELLO, LONDON
FLAMENCO EGGS WITH GARLIC AND PARSLEY RECIPE
MORE RESTAURANT REVIEWS