Why go?
If you're looking for somewhere trendy to eat, head to Soho. If you want something simple and chic, dig out your
fancy handbag
and head over to Mayfair. It's not that we're tired of menus specialising in burgers,
dim sum
or pizza, but sometimes it's nice to go back to basics.
Boulestin first opened in the 1920s and has now been resurrected for a 2014 audience. The man behind the name, Xavier Marcel Boulestin, was the
Jamie Oliver
of his day - a cookery writer and the first TV chef, whose restaurant became legendary. For a time it was known as the most expensive place to eat in England.
Happily, this is no longer the case. Boulestin c.2014 has recognised that people are no longer thrilled by the prospect of leaving a restaurant bankrupted. It's still expensive, but you won't have to sell your firstborn after pudding.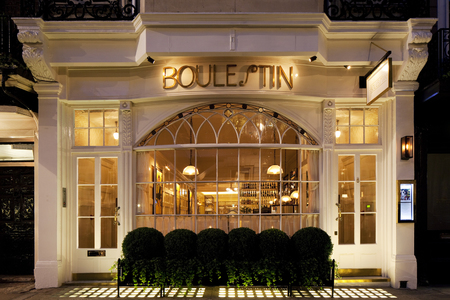 That's not to say we don't feel swanky walking in. We like the black and white chequerboard floor and green chairs, which make it feel like the Mad Hatter's Tea Party as imagined by the fifth Earl of Wessex.
The swank-factor is enhanced by the waiters who are wearing white pinnies, which make us feel like
we're in Downton
. Plus, the other diners in the restaurant are all proper grownups (i.e. Paul Smith suits and DeBeers bling). If we did a quick straw poll, we'd bet that everyone eating there is packing a Platinum Amex card.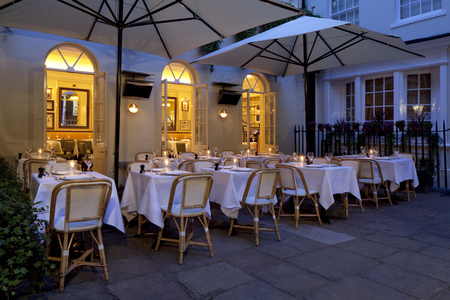 Eat?
The food is
classic French,
inspired by the original Boulestin menu and cookbooks. We start with charmingly-named 'Savouries', which are tasty little bites, perfect with cocktails.
The oak smoked eel with horseradish and smoked cod roe with devilled eggs are delish. And despite costing about a fiver each, they're gone in one bite. Perhaps this is why French women don't get fat - it costs too much.
Feeling bold, we had a starter of Octopus Ragôut with tomatoes, courgettes potatoes, olives and capers. It was perfectly seasoned and well-cooked. Forget any rubbery calamari you may have choked down in the past - this could be the cephalopod to change your mind.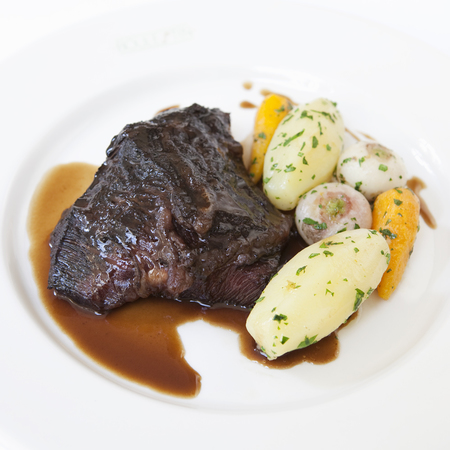 Meanwhile, a dish of Imam bayildi (literally meaning "the imam swooned") was vegetarian heaven - aubergine stuffed with onion, garlic and tomatoes, simmered in olive oil. It's a Turkish dish but very popular in France too.
For our main, we had the
Cassoulet de Toulouse
, which was posh comfort food at its best. Meaty sausages and soft beans combined in a satisfyingly rich sauce.
Alongside this, we ordered the restaurant's "Potato cake Anna". Despite being described as "dauphinouse without the cream" (WTF, Anna?!) it was very good, and didn't leave us feeling like we'd earned ourselves a massive coronary.
We finished with a classic
tarte tartin
(gone in 60 seconds) and something called 'Sauternes Custard with Agen Prunes in Armagnac', which, to our delight, turned out to be a boozy creme caramel.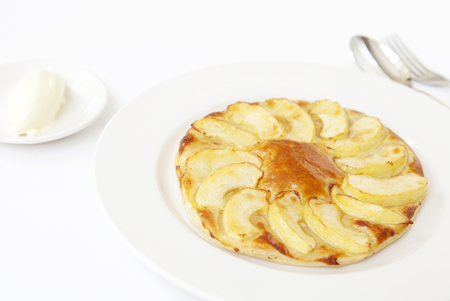 Drink?
French women might not get fat, but they certainly get drunk. We loved the
sophisticated cocktails
on offer, including 'Le Boulestin' - Ketel, Tanqueray, cranberry and fresh ginger.
The wine list is expensive but good. Choose anything as long as it's French and red and you'll leave happy. And finish with a glass of sticky sweet Sauternes. If you're still standing, an
espresso martini
will leave you feeling la vie est belle. At least until tomorrow morning.
The Lowdown
Dinner for two with drinks £200
Boulestin, 5 St James's Street, London SW1
Boulestin.com
, 020-7930 2030
REVIEW: DRAKES TABANCO TAPAS RESTAURANT LONDON
DIM SUM AT BROMPTON ASIAN BRASSERIE, LONDON
MORE GOING OUT IDEAS