WHY GO?
If you're a bit blase about restaurants and are looking for a dining experience with a twist then Pacata is for you. Its concept is simple: Asian food with a European twist. Think Asian burgers and steaks with Katsu sauce.
Food aside, the decor in istelf is worth the detour. It's a veritable amalgam of styles
with flowers in jam jars
, books on tables, vintage lighting installations, historically tiled bathrooms and a map of the world with polaroids of diners from various countries. Cosy it is.
Eat?
As previously mentioned, it's Pan-Asian food with a western twist. Yasuji Morizumi, the first Michelin-starred Ramen chef, designed the menu with comfort and flavour in mind to produce an experience for the senses.
And that he does. We had
the chicken popcorn
and chicken satay for starters that delightfully tickled our tastebuds. They were accompanied by tropical cocktails that are an absolute must-taste.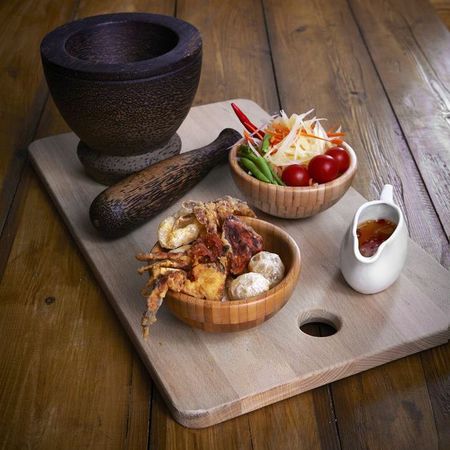 Main courses of Pacata soft crab burger and steak with Japanese curry sauce were accompanied with delicious sweet potato chips that had a bit of a nice kick to them. We also tried the DIY salad which was super refreshing.
Of course, we had to try the desserts for, ahem, research purposes.
All desserts
are heavily flavoured with green tea, and although we're not a fan of the drink, what can we say? The desserts were amazing.
The cheesecake with green tea ice cream was possibly the best cheesecake we've ever tasted outside of New York, while the green tea brownie was also incredibly tasty, if a little too rich (white chocolate lovers will love it).
Drink?
You can't go to Pacata without sampling the delicious array of tropical cocktails, quirkily served in jam jars.
We loved About Thyme, a mix of tropical fruit and herbs.
The lowdown
Dinner for two with drinks, about £150.
Pacata
, 4 New Row, Covent Garden, WC2N 4LH
REVIEW: DRAKES TABANCO TAPAS RESTAURANT LONDON
DIM SUM AT BROMPTON ASIAN BRASSERIE, LONDON