WHY GO?
In the heart of bustling Camden Town and a short jaunt from the tube,
this restaurant
is worlds away from the average curry house.
As the brainchild of head chef Sabbir Karim, Namaaste Kitchen is
an Indian eatery
with a difference.
The menu spans India North to South, East to West from quick and easy street food to an extensive mix of modern and
traditional curries
, biryanis and an impressive range of gluten-free, vegan and halal options.
EAT?
To start, we tried the Tandoori portobello mushrooms, which were marinated and filled with figs, cashews and raisins, venison tenderised in beetroot and fennel, and the spicy soft shell crab, which were all
mouth-watering
.
Because of the extensive and delicious-sounding menu, it felt like an impossible task to choose just two dishes but luckily, our lovely server Imran saved the day with
his expert knowledge
.
With his recommendations, we opted for the Tandoori Rubiyan Duck which was divine, Moru Kachiathu - a sweet and sour
veggie delight
with mango and banana, and the freshest chicken tikka we've ever tasted (yes, we said that), all mopped up with dates and ginger naan and side of basmati rice.
All-in-all, it was
the ultimate Indian feast
.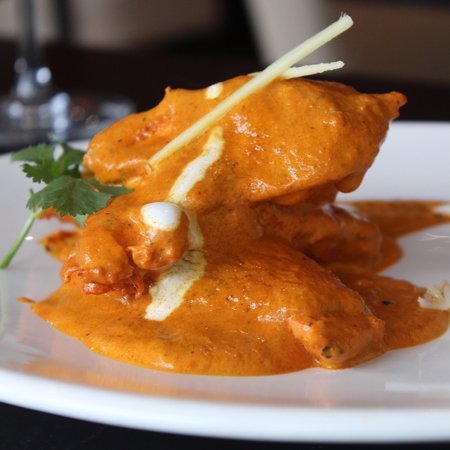 DRINK?
We
guzzled on a glass or two
from their wine list which went very well with the dishes.
Their list has a good selection of
different wines
from around the world.
THE LOWDOWN
Dinner for two with drinks, around £50.
Namaaste Kitchen
, 64 Parkway, Camden/Primrose Hill, NW17AH.
LONDON RESTAURANT REVIEW: KITCHENETTE
REVIEW: NEW YORK MEETS LONDON AT CORE
MORE RESTAURANT REVIEWS
LOTS MORE ON HANDBAG.COM