We'd all love to discover a food that makes us
look younger
- and we think we've got the answer.
Foods that contain antioxidants not only protect against free radicals but also contain anti-ageing properties.
Antioxidants are found in all
fruit and vegetables
. We've put together a list of six anti-ageing foods, but there's plenty more you could add too. Think carrots, avocados, kiwi fruit, strawberries, grapes...the list is endless.
Dark green leafy vegetables
Dark green leafy vegetables - such as broccoli and spinach - are a rich source of vitamin C, carotenoids and
anti-cancer
substances. They also contain carotenoid pigments which help prevent age-related eye problems.
Tomatoes
Tomatoes are a rich source of lycopene - a powerful antioxidant and anti-cancer agent that helps to prevent cell ageing and help
prevent heart disease.
Top tip:
Cooking tomatoes
releases five times more lycopene than is available from raw tomatoes.
Soybeans
Soybeans contain isoflavones - weak, hormone-like substances that help to prevent ageing due to
hormone imbalances
.
They are also believed to help protect against hormone-sensitive cancers, such as breast and prostate. If you're not keen on the taste try soybean products such as tofu, miso or tempeh.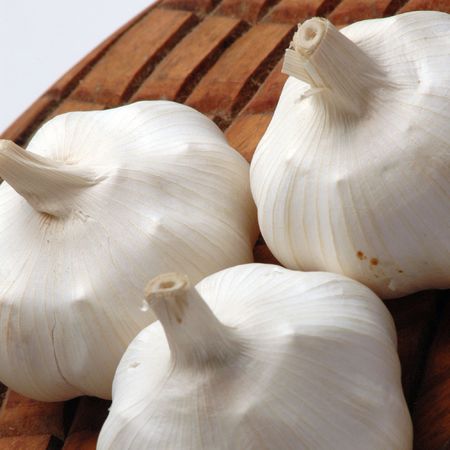 Garlic
Garlic has antioxidant, antiseptic, antibacterial and
antiviral
properties. While it is used to help treat intestinal, respiratory and skin infections, its most important use is to help
maintain a healthy heart
and circulation.
Garlic can reduce high blood pressure, lower levels of
harmful blood fats
and improve peripheral blood flow.
Nuts and seeds
Nuts and seeds are rich in vitamin E, selenium, zinc and
essential fatty acids
- plus they help antioxidants to work in the body. Aim to eat at least 30g daily. The richest source of selenium is found in brazil nuts, while walnuts are great for a source of omega-3.
Bio yoghurt
Live bio yoghurt, which contains friendly probiotic bacteria, helps to boost intestinal health and
aid digestion
.
Probiotic bacteria has been shown to
boost immunity
and help to guard against some allergic conditions such as eczema.
The best anti-ageing diet


Eat three servings of fresh fruit per day


Eat three servings of raw or lightly steamed vegetables per day


Aim for colour on your plate, mix dark green, orange, yellow and red vegetables as much as possible


Avoid foods that are smoked, pickled or salted


Eat fewer foods of animal origin especially red meat, and replace with fish and soybeans


MORE TOP ANTI-AGEING SUPERFOODS
What do you think? Tweet us
@handbagcom
5 FOODS TO BOOST A HEALTHY DIET
DETOX DELIGHT JUICE RECIPE
MORE DIET AND FITNESS NEWS