Whether you have modest A cups or much larger breasts,
a sports bra
is an absolute workout essential.
You may feel like your normal bra is giving you enough support, but the permanent damage done by not wearing a bra specifically designed for
the gym
will tell you otherwise.
Less Bounce
Director, Selaine Saxby explained just why wearing lingerie on the treadmill is such a mistake.
The damage done without a sports bra
"When you're young the breast tissue is perky because of the Coopers ligaments which hold everything in place.
When you exercise, these ligaments are stretched and put under pressure from the weight of your breasts as you move around. Once these ligaments stretch there's nothing you can do to repair the damage and your breasts will start to droop irreversibly.
No amount of
weight lifting
or exercise can fix this because the breasts don't contain any muscle!"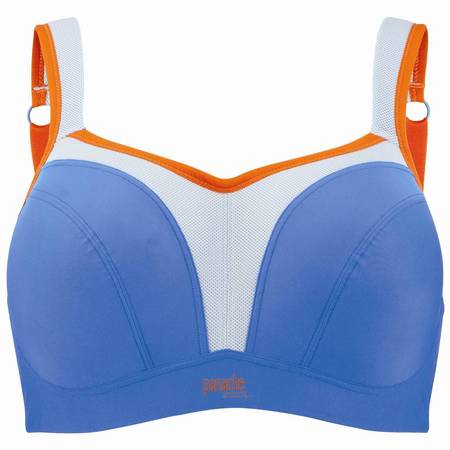 How much your boobs move during exercise
The University of Portsmouth has done extensive research into the impact of
exercise and movement
on the breasts. Although everyday t-shirt bras reduce movement by 38%, the best sports bras can reduce movement by up to 80%.
Research has found that an A cup can bounce 4cm per stride, while a G cup can bounce 14cm per stride when running on the treadmill.
Finding a bra that fits
"Three quarters of women don't wear a sports bra because they can't find one that feels conformable and fits properly.
Forget about what it says on the label. You may be a 34DD, but you could end up with a 34E sports bra, it all depends on the brand and the overall fit."


All of your breasts should be encased in the bra. You shouldn't be able to see any cleavage.


The fit should be snug - not so tight that you can't breathe, but tight enough that your bust doesn't move around when you walk.


You shouldn't be able to fit more than one finger under the bra (across the back and around the front).


Put two fingers underneath the back strap and pull out - you should only be able to pull the strap an inch away from the body.


Celebs rocking their workout gear
THE BEST CHEAP WORKOUT CLOTHES SHOPS
HOW TO GYM PROOF YOUR HAIR
MORE GYM AND HEALTH ADVICE