The latest weight loss regime to hit the American market argues that dieters can lose up to 10lbs in just one week, but only if they eat between 9am and 5pm.
The 8-Hour Diet
authors David Zinczenko (Editor in Chief of Men's Health US) and Peter Moore, say that you can eat whatever you want throughout the eight hour period and still shed excess weight.
The pair argue that staying up late and the rise of 24-hour fast food restaurants are responsible for America's high rates of diabetes and obesity.
The book claims a strict practitioner can lose 10lbs in one week and 20lbs in six weeks, by choosing any eight hour window to eat, such as 9am to 5pm or 11am to 7pm. This is to ensure that people can still enjoy meals out with friends and family.
According to Zinczenko and Moore, "Our extended eating interval throws our digestive system off-kilter and messes with the many hormones and enzymes that manage it."
As a result excess calories consumed 'after hours' are not digested and end up gathering around our stomach, thighs and bottoms.
The basic principle of the diet centres on extending the period between your last snack and your 'breakfast' giving your body the chance to burn away fat stores. Adding exercise to your morning schedule to "jump start the metabolism" is also recommended.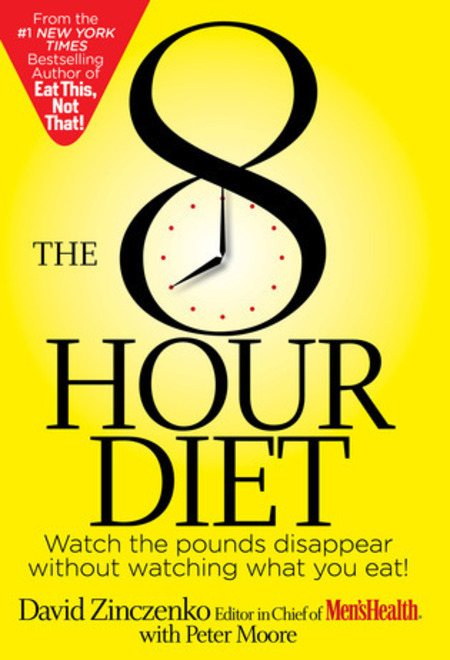 The 8-Hour Diet (available 13 January 2013), £17.99,
amazon.co.uk
.
What do you think - fad diet or a real winner? Leave a comment below to
be in with a chance of winning a £100 goodie bag
KELLY OSBOURNE: 'PEOPLE STILL SAY I'M FAT'
AVOIDING ALCOHOL CALORIES IS KEY TO WEIGHT LOSS
MILLIE MACKINTOSH REVEALS WEIGHT LOSS ON TWITTER