Vitamin injections and infusions are a
celebrity health craze
that just doesn't want to quit.
Favoured by the likes of Simon Cowell, Rita Ora,
Cheryl Cole
and now Kelly Osbourne, a cocktail of health promoting and
energy boosting vitamins
is either injected into the patient's bum, or you can have an infusion drip into the arm.
Rihanna, Katy Perry and Lady Gaga have all sworn of their benefits for keeping healthy on tour, meanwhile Cowell told
GQ
, "Even when I'm having a viewing session with producers, [a nurse] just sticks the needle in me and we carry on whatever we are doing."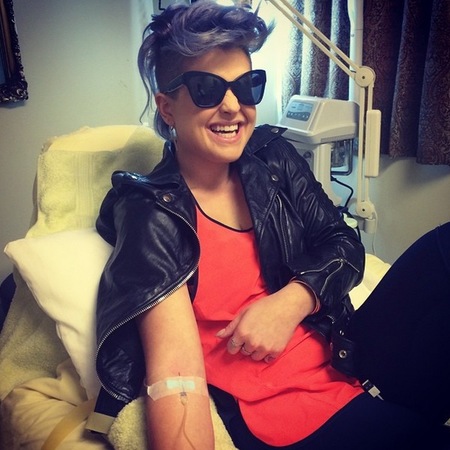 Even though it is popular with our
wheatgrass drinking
friends across the pond, you can get the treatment here in the UK.
EF MediSpa
in London offers five different types of boosters that range from stress busting, energy busting to promoting weight loss. They're also supposed to be good after excessive partying.
Jumping on the
celebrity health bandwagon
is never cheap, with a vitamin shot setting you back £250. But we've all had those hangovers where we would give someone our own arm if it meant the head drilling stopped.
Despite their popularity, medical experts aren't convinced that these injections actually work, much like the
vitamin supplement
before them. In fact, there is no scientific or clinical research to suggest that a vitamin boost is actually beneficial or effective at curing exhaustion.
Some psychiatrists believe it's the placebo effect - where someone feels better because they think the vitamins
should
make them feel better.
We're intrigued either way. If it wasn't for our crippling fear of needles and spending money, we'd be all over this.
Tried it? Tweet us
@handbagcom
The A-Z of vitamins & minerals
MIRANDA KERR'S DAILY DIET AND FITNESS ROUTINE
5 REASONS WHY YOU NEED MORE LEMON IN YOUR LIFE
MORE HEALTH FEATURES