When she's not playing Penny on
Big Bang Theory
, you can usually track
Kaley Cuoco
down the stables training with her horse Thor.
And now the accomplished rider will be competing against other secret horse riding celebs at the Longines Los Angeles Masters event in September, reports
NY Daily News.
Attended by the likes of
Leonardo DiCaprio and Kate Winslet
, the show jumping event is hoping to put on some entertainment in the form of competing celebs.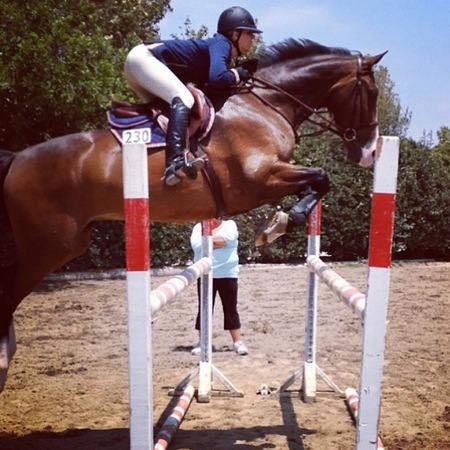 Should be a gallop in the park for Kaley, who has been training for years, and even got back on the horse after a nasty accident in 2010 nearly meant she had her foot amputated.
But the
newly married actress
isn't the only celeb in love with ponies. Kendall and Kylie Jenner, Miley Cyrus, Rihanna and
Kate Middleton
have all taken horse riding lessons.
How good is horse riding as a workout
Sure, horse riding isn't the most
budget-friendly workout
around, but it is a great form of exercise.
Not only does it
build muscle strength
and structure, it burns around 230 calories an hour, going up to 470 calories an hour for galloping and
polo playing
. Also mucking out and shovelling grain after your ride can burn 350 calories an hour.
It can also
help beat depression
as people who horse ride have increased levels of serotonin (a natural mood enhancer).
Thoughts? Tweet us
@handbagcom
Best celebrity bikini bodies (& how to get them)
HOW TO KEEP FIT ON HOLIDAY WITHOUT HITTING THE GYM
SPEED UP YOUR METABOLISM IN 24 HOURS
MORE FITNESS ADVICE