Making new mothers, nay, women everywhere, feel down right crap about themselves – Gisele is
back in her bikini
fronting the new swimwear campaign for
H&M
.
The mother of two gave birth to her
daughter Vivian
in December, and she already looks like this. Don't you just want to thump her?
Gisele has attributed
bouncing back so quickly after giving birth
to continuously working out while pregnant and
eating healthily.
After welcoming her son Benjamin in 2009, the model was back on the catwalk in a matter of months.
She told
Vogue
at the time, "I think it's muscle memory."
"
I did kung fu
up until two weeks before Benjamin was born, and yoga three days a week," she said.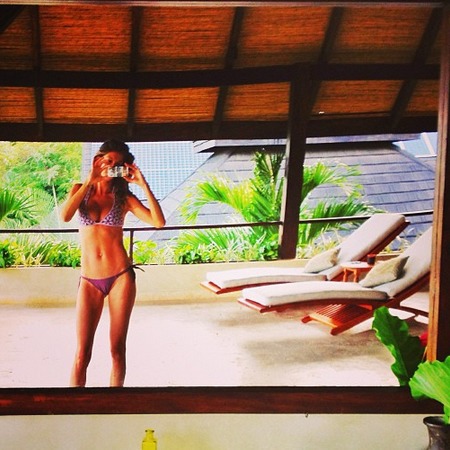 The supermodel reportedly does a
high intensity 90 minute Kung Fu workout
three times a week
alongside yoga.
But that's not all. Oh no. When she's in L.A., Gisele heads straight to
Tracy Anderson
's studio to get her cardio fix with Anderson's unique mix of aerobics and dance moves.
She has also been seen to attend
Tai Chi classes
and loves outdoor activities like hiking and horse riding – proving that the key to keeping fit is variety.
The model, who is married to New England Patriots player
Tom Brady
, says diet also plays a key part to
losing her baby weight.
She managed to cause controversy after giving birth to her son, saying that other
women just don't eat the right
things when they're preggers.
"I think a lot of people get pregnant and decide they can turn into garbage disposals. I was mindful about what I ate, and I gained only 30 pounds," she said. Ouch.
She then went on to say that her eight-hour first birth "didn't hurt in the slightest".
Check the her out in the new
H&M campaign video
and prepare to get jealous.
Aright, simmer down Gisele. Thoughts? Tweet us
@handbagcom
The best celebrity bikini bodies (and how to get them)
JESSICA ALBA'S 'BRUTAL' WEIGHT LOSS SECRET
HOW TO TONE YOUR FACE WITH YOGA EXERCISES
MORE FITNESS ADVICE