Rita Ora
has been working on her full body fitness by jumping in the ring with boxing pro David Hayes.
The former WBA heavyweight champion and
I'm a Celebrity...Get Me Out of Here
contestant gave Rita a few lessons in throwing a decent punch before asking her to use him as a punching bag.
Safe to say she didn't win the fight!
Check out Rita sparring with David in the video below...
Loads of female celebs have taken up boxing and kick-boxing to maintain their amazing bodies. Tulisa was
recently snapped taking out her anger issues
on a punching bag, while Victoria's Secret model Adriana Lima is an outspoken advocate of amateur and semi-professional boxing.
According to Fitness First personal trainer A J Perera boxing classes are a great way to keep both the body and the mind looking and feeling young.
He told us, "As we age two key functional abilities that deteriorate are rotation and reflex timings. With boxing, you are constantly moving. It is a contact sport that requires you to behave both offensively and defensively; sharpening the mind to react quickly to protect itself.
"As you deliver punches, your body requires a strong core on which to rotate the upper and lower body. This enhances and improves your overall agility, increases your cardiovascular activity and conditions your upper body and abdominal muscles."
Sounds good to us! But this definitely isn't an easy workout (as Adriana's seriously sweaty and slightly bruised Twitter snap shows below)!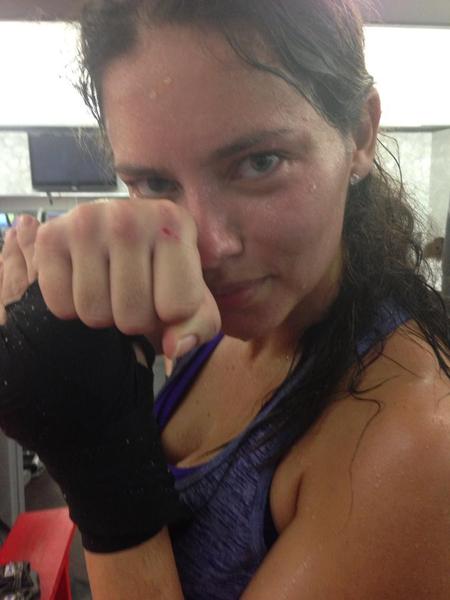 If you're thinking about taking up boxing, AJ recommends starting with three weekly sessions with one day's rest in between. The rest is crucial because boxing uses both aerobic and anaerobic energy systems (explosive movements and long-term stamina combined). So you'll defo need time to recuperate!
When you throw a punch all the power should come from your core and not the sheer force of thrusting your arms forward. Engage your core by tensing your abdominals and twisting with each punch. The intensity of your workout depends on you. If you don't put 100% effort in like Adriana and Rita, you won't get 100% of the body conditioning benefits.
Don't forget the mental benefits that come from boxing - learning to focus, bouncing back from a hit in sparring sessions and staying determined to win (or just finish the killer workout session).
What do you think? Are you going to follow in Rita's footsteps?
MASTER BAR REFAELI'S STRENGTHENING YOGA MOVE
KIMBERLY WYATT ON WHAT IT TOOK TO LOOK LIKE A PUSSYCAT DOLL
AMY CHILDS SAYS SHE HAD BOTOX FOR 'TOWIE'
ASHTON KUTCHER'S EXTREME FRUIT SUGAR DIET