Loads of female celebrities like Kourtney Kardashian, Kate Upton and
Kelly Brook
have shunned the lean Gwyneth Paltrow-look in favour of a toned 'soft body' that embraces their naturally curvy figures.
If you're proud of your boobs, bum, waist and hips (you should be!) but want to make them a little more firm and a little less wobbly, there are ways to get fit and retain your natural shape.
We asked the experts at
Fitness First
to reveal their simple step-by-step instructions for achieving a honed hourglass figure...
Step One: Body Fat
The first thing to do is check your body fat percentage. If you're not overweight and have a low body fat percentage (around 14 to 20%) then it's more than likely your curves are made up of muscle. Result! If this is the case you can safely lose weight and maintain your hourglass shape with some simple body sculpting exercises, yoga and pilates.
If you know you're carrying a few extra pounds or your body fat is much higher you'll need to work on your overall fitness and start a healthy eating plan. Cut out the cakes and the biscuits and move on to...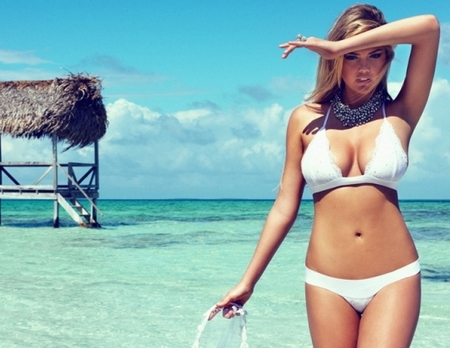 Step Two: Cardio
Start your fitness routine by doing some type of cardio workout, whether it's a jog outdoors or on the treadmill. Try and aim for 30 to 60 minutes each day to start fat loss and give your heart a much needed health boost. Don't forget that cardio can also include functional freestyle training; like battle ropes or kettle bell swings to get your heart pumping and burn calories.
TRY MIRANDA KERR'S SIMPLE YOGA ROUTINE - VIDEO
Step Three: Toning
Attaining the perfect bottom and hips are high on most women's agenda. When it comes to curves,
lunges
and squats are the ideal exercise for
toning up fast
. Traditional squats work well,but it's worth including single leg squats in your exercise regime for added effort.
Support your body by holding on to something and squat down on one leg. Drive through the heel of that leg as quickly as possible to return to a standing position. Repeat eight-12 times.
Side lunges are great for targeting problem areas. Ease into the deepest part of the lunge and ping back to the starting position for the perfect round bottom in no time. For toning up your arms, chest and shoulders start doing push-ups iron man-stylee. Do three sets of 10 repetitions.
Step Four: Brace Yourself!
A great tip is to 'brace your abs' when doing any exercise, especially squats and lunges, as this will engage your core and give you better results and a flatter stomach in less time. Imagine you're sucking in your stomach every time you work up a sweat.
8 DIET FRIENDLY HIGH-PROTEIN BREAKFASTS
Step Five: Nutrition
Diet is key - having a toned curvaceous body is all about eating lean, healthy foods to keep your body fat low. What's the point of having awesome toned muscles if they're hidden beneath layers of fat! Drink lots of water, reduce your sugar intake and eat plenty of fibrous carbohydrates such as broccoli, spinach and cauliflower.
What do you think?
TRACY ANDERSON ON GETTING RID OF GWYNETH PALTROW'S 'LONG BUTT'
THE OUTDOOR WORKOUT THAT MAKES KATY PERRY HAPPY
KIM KARDASHIAN OBSESSED WITH LOSING WEIGHT?