Exercise is meant to make you feel good, right? The answer is yes - as long as you're doing it properly. The problem is, many of us might not be.
New research shows that if you're regularly curling or crunching, you may be doing more harm than good. These exercises were among those most frequently done wrong according to a poll by Sweatband.com. Top of the list was the bicep curl, followed by stomach crunches and the humble chest press.
Using an incorrect technique can lead to serious injuries. That's why it's important to educate yourself before you strap on your sports bra. We spoke to Ruth Stone, the in-house fitness expert at Sweatband.com, about how to improve your workout. She says "Quality not quantity is the key. If in doubt, focus on three things: Getting your posture correct, reducing the weight you're lifting, and asking for help from a gym instructor if you need it."
Here she gives her do-it-better tips for some of the exercises most frequently performed incorrectly...
Exercise: Bicep curls
How you're doing it wrong:
If you're focusing on trying to lift a weight that's too heavy, you're taking the focus away from the bicep and onto the shoulders.
Try this instead:
Keep your back straight and your shoulders relaxed. Always confine the movement to the elbows and make sure you go from full extension to a flex every time. Avoid resting your elbows in at the waist as this will transfer the weight from the arms to the torso.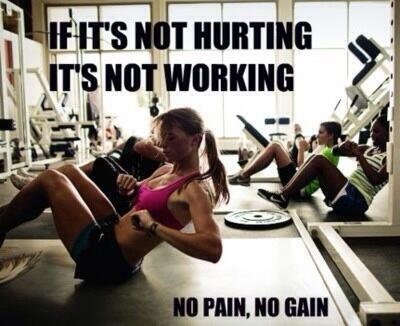 Exercise: Crunches
How you're doing it wrong:
Feeling a strain in your neck? Yeah, that's not good.
Try this instead:
Keep it slow and low, exhaling through the mouth as you lift and inhaling through the nose as you lower. Be wary of any lightness or lifting in the legs as this is an indication the hips are assisting.
Exercise: Squats
How you're doing it wrong:
Poor posture puts too much strain on the lower back and not enough emphasis on the legs.
Try this instead:
Ensure your heels remain rooted throughout and that your spine keeps its length. The bend comes from the knees and there is a natural flex of the hips to keep you balanced as you squat down.
Exercise: The plank
How you're doing it wrong:
If your body is sagging in the middle you're placing too much stress on the lower back.
Try this instead:
There should be a straight line running from your shoulders, through your hips, to the knees and on to the ankles Imagine you're in a bikini and someone's taking a picture of you - that's right, you need to suck in your core.
Exercise: Lunges
How you're doing it wrong:
Putting your knee over the toe with the pressure on the ball of your foot will make you wobbly and prone to injury.
Try this instead:
Start in the low position to get your footing right. Both knees should be at 90 per cent with the front one positioned over the heel and the back one under the hip. Don't let your knee come forward further than your toe.
What do you think? Have you been committing these exercise sins?
SERIOUSLY STRANGE REACTIONS TO EXERCISE
HOW TO BUILD A CELEBRITY BODY
WIN! A 6 MONTH SUPPLY OF E-CIGARETTES FOR 'STOPTOBER'
KHLOE KARDASHIAN'S GRUELLING SQUAT WORKOUT
BRITNEY SPEARS REVEALS TONED FIGURE ON VIDEO SHOOT