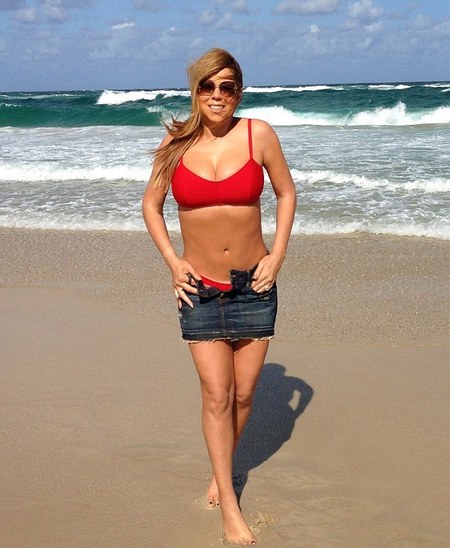 Hot damn
Mariah Carey
you have a flat stomach!
The 42-year-old mother of twins showed off her 'abulous torso while she was hanging out on the beach.
Wearing a red bikini and denim cut off skirt, we don't know if we're more jealous of her trim tum or her Australian beach backdrop.
But how does the buff warbler keep that physique?
Why, with moderate exercise and a calorie controlled diet of course!
The singer attributes the weight loss after her giving birth to her twins with reprioritising diet over intensive workout sessions.
She goes on long walks twice a week and jumps in the pool to do 45 mins of aqua-aerobics, alongside keeping to a strict 1,500 calories a day.
Oh Mariah, you make it sound so easy.
What do you think of Mariah's snap? Leave a comment below to
be in with a chance of winning a £100 goodie bag
THE 2 MINUTE WORKOUT EVERYONE CAN DO
CORRECT YOUR POSTURE AND LOOK SLIMMER
MAKE THE MOST OF A TREADMILL WORKOUT