Ever wondered why no matter how hard you try you just can't
lose weight?
If you're dieting there's nothing worse than the scales not budging. But fear not, it could be something as simple as bad dieting habits that are sabotaging your slimming efforts…
HABIT 1: OVERLOADING YOUR PLATE
Most of us are guilty of those extra big portions. But supersizing meals can double calorie intake even if you're eating
healthy food
.
"We live in a society that's lost sight of what a normal portion size is," explains nutritionist Rachel McGuiness (
abfabfemale.com
) "Things like standard burgers and bars of chocolate are so much bigger than they were years ago."
Slimming solution:
Aim to gradually reduce portions and try filling up with a glass of water before each meal. "I use my hand to explain proper portion size to my clients," says Rachel. "Every meal should be split into a
portion of protein
the size of the palm of your hand, a serving of carbs the size of your fist and then two fists worth of vegetables."
HABIT 2: SWEET CRAVINGS
Whether you're after a chocolate digestive biscuit or a
low-cal snack,
there are times when cravings just get the better of even the most strong-willed slimmer.
Slimming solution:
Reducing the amount of sweet foods you eat (even low-cal options) and sticking to a diet of natural foods like fresh meat, fish, fruit and vegetables will help stop cravings. The more sugar you eat – the more you want it.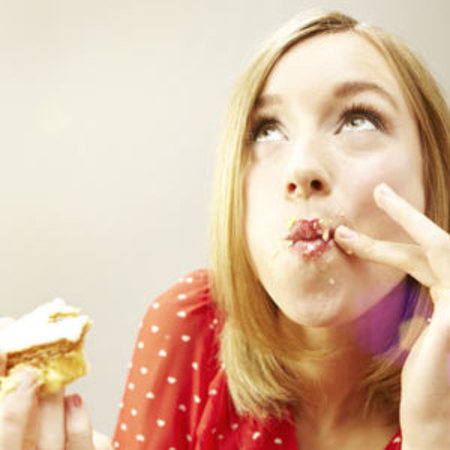 HABIT 3: COMFORT EATING
1 in every 10 people admit their emotions affect what they eat. "It's impossible to separate food and emotions," says therapist and lifecoach Julia Armstrong (
juliaarmstrong.com
). 'It starts when we're babies and first learn to associate our mothers feeding us with getting love and safety."
Slimming solution:
"Notice when you start to turn to food for comfort and tune into what you are feeling," says Julia. 'Many things send us rushing to the biscuit tin. If you can identify the real reason you're eating then you can start to tackle the problem."
HABIT 4: GULPING FOOD DOWN
It can be hard to make time for eating slowly, but speedy eating is bad news for your waistline because it doesn't give your brain time to register when it's full.
Slimming solution:
"Try slowing down the speed you eat by sitting down in a quiet environment with no distractions and paying attention to your meal", says the founder of Nu Beginnings weight loss retreat Victoria Wills (
victoriawills.com
).
HABIT 5: DIETING THEN BINGEING
"It's all down to being too restrictive about what we're eating and that makes us crave what we can't have," says Tricia Woolfrey a hypnotherapist and health practitioner from the National Centre for Eating Disorders
(pw-hypnotherapy.co.uk)
Slimming solution:
"Having regular meals with complex carbs like wholemeal bread, pasta and rice is a great way to keep blood sugar levels stable and
stop cravings
," says Tricia. "And drink lots of water because we confuse hunger with thirst."
Share your diet tips
@handbagcom
WORST CELEBRITY DIETS TO AVOID
USE NUTRITION TO BALANCE YOUR HORMONES
DIET & HEALTHY LUNCHBOX RECIPES
MORE DIET AND FITNESS NEWS