Want to
save cash
and hassle? Then packed lunches are the answer.
We know what you're thinking, 'Handbag, seriously, stop coming into our house and shoving our leftovers in Tupperware boxes' - but it's for your own good.
These recipes will not only taste better the next day, they will make you the envy of all your ill-prepared work colleagues. Yeah, take that Jenny in accounting - we've got lasagne for lunch, how's your sandwich looking now fool?
LORRAINE PASCALE: DAD'S PENNE ALL'ARRABBIATA RECIPE
(ABOVE)
Crispy Pancetta and a creamy tomato sauce means this pasta dish is great eaten hot or cold.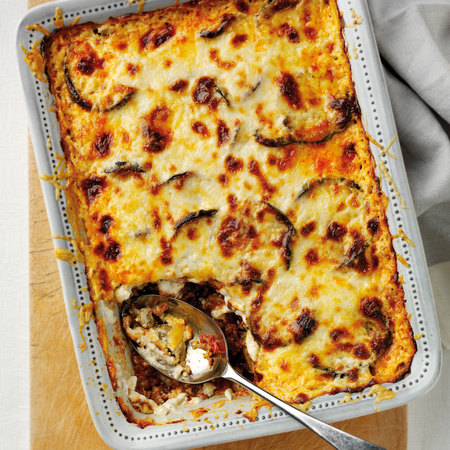 HEALTHY MOUSSAKA RECIPE
Blending traditional Greek flavours with new cheese on the block - Quark - this delicious recipe is yummy
and
healthy.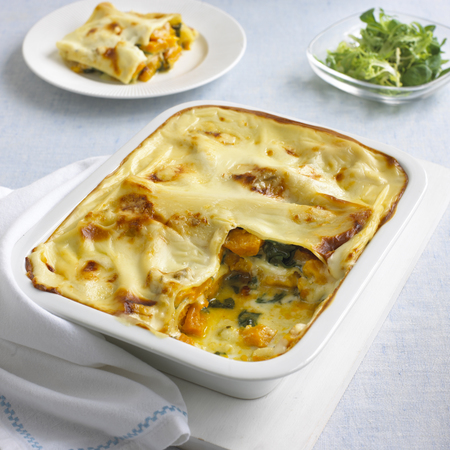 PUMPKIN, SPINACH AND GORGONZOLA LASAGNE
This rich, vegetarian lasagne is bursting with sage and nutmeg flavours topped with gorgonzola and roasted pumpkin.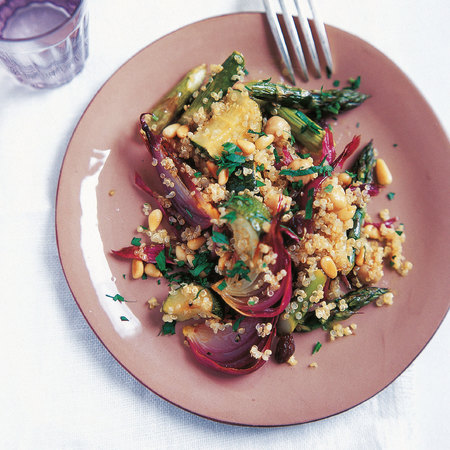 CHICKPEA, QUINOA AND VEGETABLE SALAD
Make lots of this Moroccan, super food salad and take the leftovers to work in the morning.
FLAMIN' BBQ MEATBALLS IN SPICY TOMATO SAUCE
Rich tomato sauce and BBQ meatballs - yummy! Serve with rice and salad the night before and toasted pitta for next day's lunch.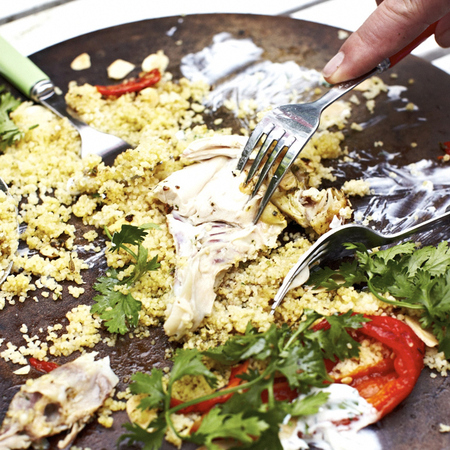 SPRING CHICKEN AND ROMERO PEPPERS WITH COUS COUS
This light and zesty chicken salad is great for hot summer days or served with warm cous cous on colder evenings.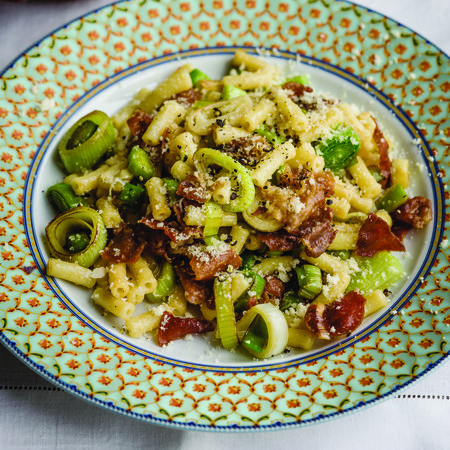 LEEK AND PROSCIUTTO MACARONI WITH GREEN BEANS
Sometimes you just need a bit of a treat. Mix crisp prosciutto with creamy leeks and throw in some crunchy beans to make a grown-up macaroni.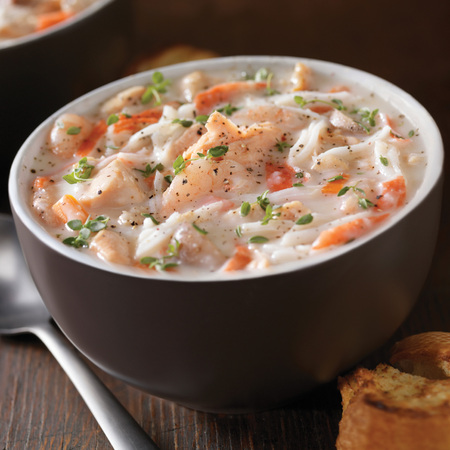 THE SURF CAFÉ'S WEST COAST CHOWDER RECIPE
Chow down on this American favourite - seafood chowder, which mixes fresh fish and shellfish in a creamy sauce.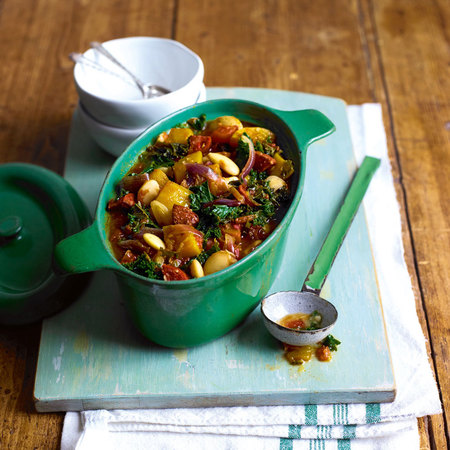 HEALTHY KALE & CHORIZO STEW RECIPE
Kale is bursting with antioxidants and this filling but simple meal is a great blend of veggies and protein.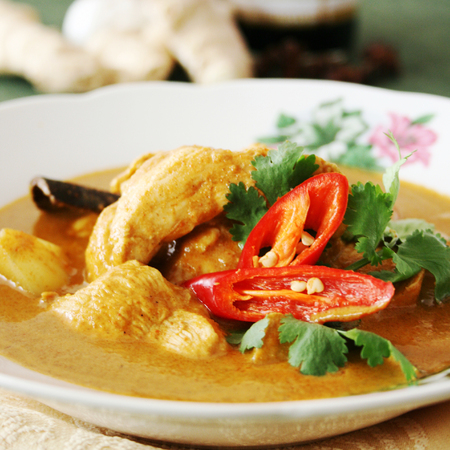 KARI AYAM MALAYSIAN CHICKEN CURRY RECIPE
Coconut milk, cinnamon and garlic mix to make this spicy but creamy chicken curry. Make extra the evening before then pop in a tupperware to take to work.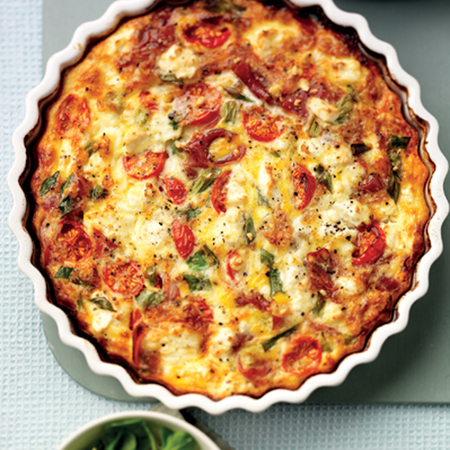 LIZ MCCLARNON'S NO PASTRY HEALTHY QUICHE RECIPE
This scrummy no-pastry quiche is great eaten hot or cold. Full of feta and parma ham, you get all of the taste and none of the guilt.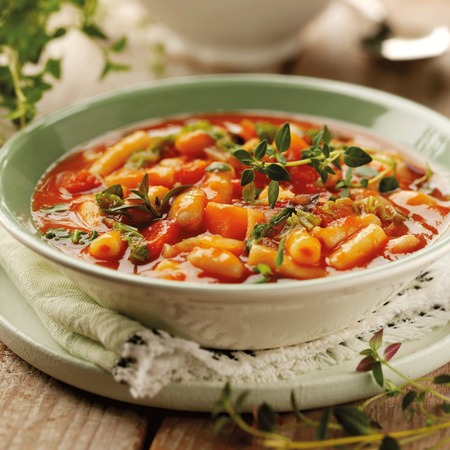 MEDITERRANEAN MINESTRONE SOUP WITH THYME
So easy to re-heat in the microwave and bursting with rich tomatoey flavours - this wholesome soup is a winner.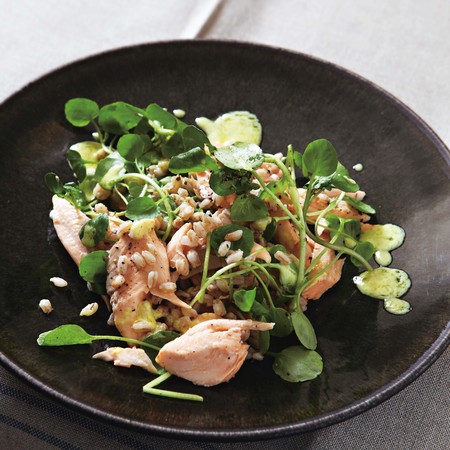 TROUT, WATERCRESS AND SPELT SALAD
Use fresh trout and crisp watercress to make this delicious super salad. Serve with new potatoes the night before and take the rest to work for a healthy lunchtime treat.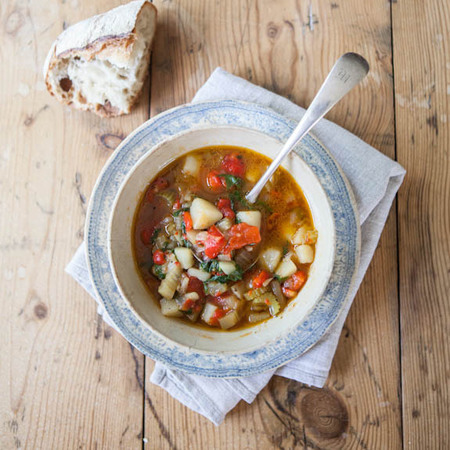 ITALIAN ROASTED PEPPER & POTATO SOUP RECIPE
Transport yourself to the warm shores of Sicily with this delicious roasted red pepper, potato and herb soup.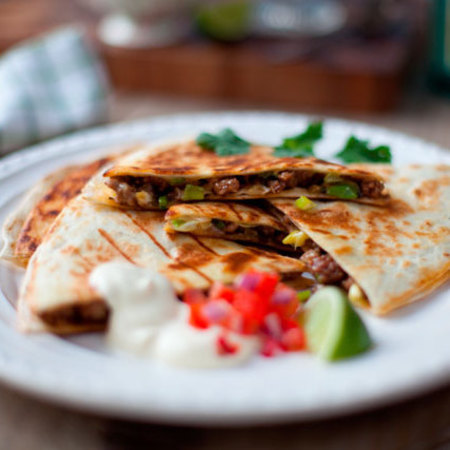 BEEF QUESADILLAS WITH CHILLI SALSA
This Mexican dish combines meaty beef with spicy homemade chilli sauce. You can toast pitta to serve with the sauce for lunch.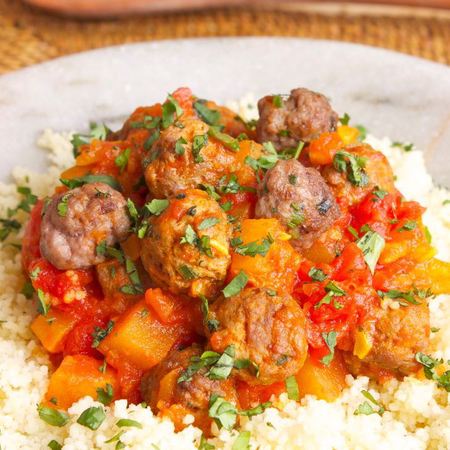 MOROCCAN SPICED LAMB WITH SWEET VEGETABLE STEW RECIPE
Spiced lamb and plenty of veggies thrown in too - this stew is great for making in bulk and freezing.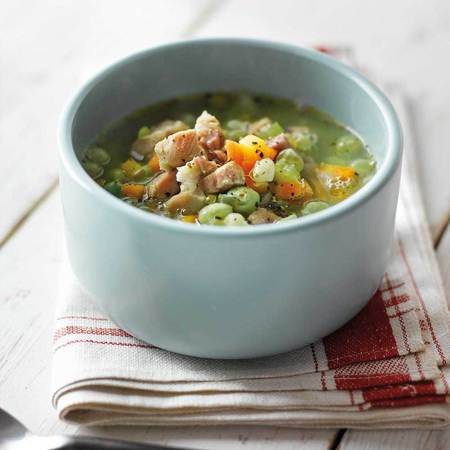 SPLIT PEA & HAM SOUP RECIPE
Sometimes you just need a bowl of warming soup. This ham and pea soup is also perfect for girls on the go.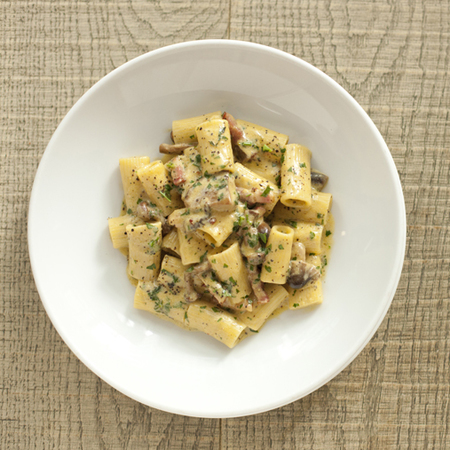 RIGATONI CARBONARA RECIPE
Creamy carbonara, rich pancetta and lashings of parmesan...we are drooling already.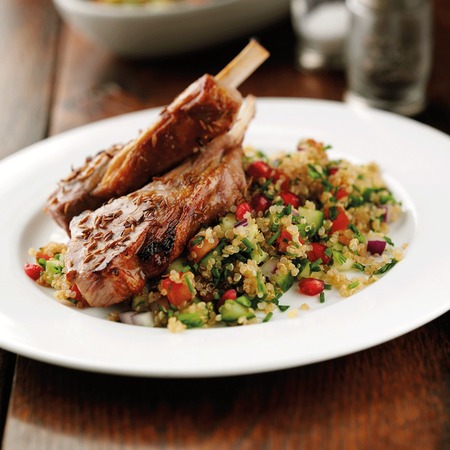 TEA TABOULEH WITH SPICED LAMB CUTLETS RECIPE
An unusual twist on a classic BBQ favourite, these lamb cutlets and herby salad are great for summer lunches and dinners.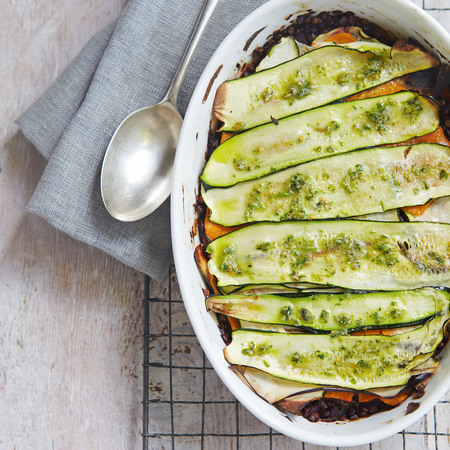 HONESTLY HEALTHY RECIPE: LAYERED VEGETABLE BAKE RECIPES
Instead of using lasagne sheets which can leave you feeling bloated, try this amazing vegetable bake recipe which layers bright, sliced vegetables together with Mediterranean olive oil.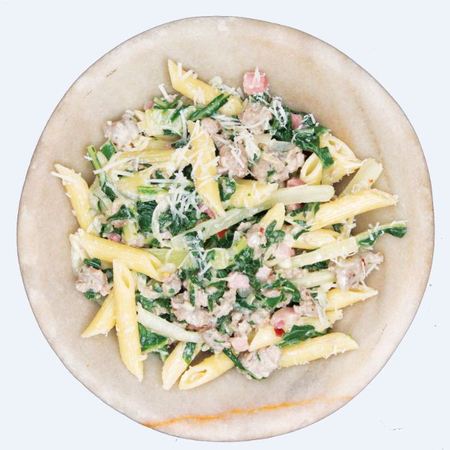 SUPERFOOD KALE AND TUSCAN SAUSAGES WITH PENNE RECIPE
Toss some vitamin rich kale in with this Tuscan inspired penne and sausage pasta. It'll leave you feeling fuller for longer and tastes pretty yummy too.
FOODS THAT CAN MAKE YOU SMARTER
What are your favourite leftover food recipes? Tweet us
@handbagcom
.
LAMB RIBS WITH TOMATO, PASTA & PEA SALAD
QUICK & TASTY STIR-FRY RECIPES
MORE DIET AND FITNESS NEWS