An anonymous
Facebook
post is being heralded on the internet as profound
fitness inspiration
. But can we talk about this for a moment? The post begins, "To the fatty running on the Westview track this afternoon."
You may have already seen this post, it's been doing the viral rounds. But while many have given the author praise, we feel the need to flag a few things here.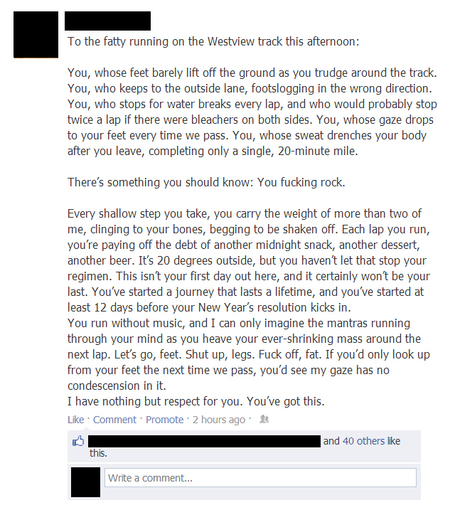 Though a well intentioned gesture, perhaps, we can't fight the feeling that this one of the most patronising passages we've
ever
read. 'As you heave your ever-shrinking mass'? Please.
It's not just us taking this view, of course. Here's what a few others had to say.




What did you make of the post? Tweet us
@handbagcom

5 PEOPLE TO FOLLOW FOR WEIGHT LOSS TIPS

MEET KELLY BROOK'S BOYFRIEND DAVID MCINTOSH

MORE HEALTH AND FITNESS NEWS