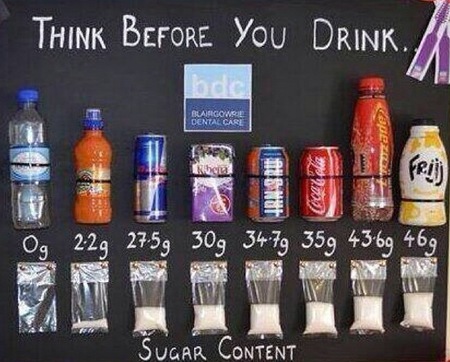 The creator of
Clean and Lean
, James Duigan has no plans to stop reminding us of
the dangers of sugar in your diet.
One of the worst culprits for
hidden sugar
you don't realise you're consuming, is drinks.
So, he's got a message: "Think before your drink".
From fruit juices to energy drinks, there's
a lot of sugar in those bottles.
From
the impact on your skin
, to the obvious affect it has on your diet and weight loss, we basically all need to reduce our intake.
The RDA may be 50g but a new study has stated that this should be reduced to 6 teaspoons, which is about 34g.
Time to make that
veggie filled green juice
...
healthy juice fans
GREEN DOESN'T MEAN HEALTHY
16 LIFE HACKS TO GET HEALTHY FAST
MORE HEALTH AND FITNESS LESSONS