Celebrity yoga show-offs
are not hard to find, from
Miranda Kerr
to
Gisele Bundchen
, these lithe yoga enthusiasts are keen to show us their moves any time they can, most often on Instagram.
However there are corners of the
yoga community
that are far from impressed and are actually concerned and annoyed at the message they are sending.
Not only do they imply that certain moves may be easy to achieve and therefore celebrity fans could
injure themselves
attempting to emulate them.
Some also think they remove one of the key elements of the activity; the spiritual and very personal experience.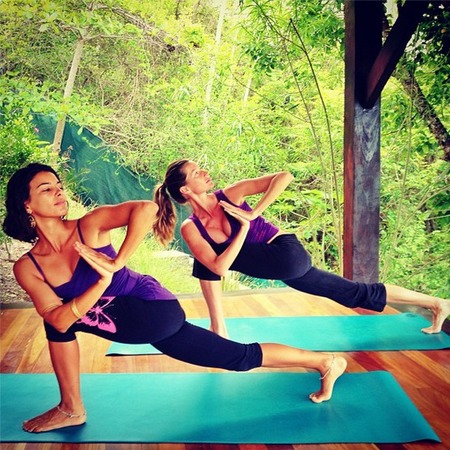 Jennilyn Carson, a New York-based yogi told the
New York Post
, "In a sense it mocks what yoga is.
The discussion has been evolving over time since
Instagram
began
There's a sentiment that they're doing a disservice to yoga by
putting these pictures out there.
It's showy and basically everything that the practice is not supposed to be about - 'Look at me and these awesome poses I can do!'"
However, to some people perhaps seeing stars like Miranda doing such things breaks down a barrier and encourages them to get involved in something that felt otherwise 'too spiritual'.
Classes like NOVA
remove the focus on breathing for example, without abandoning what yoga is about - how many people will be more likely to attend something like that, thanks to these celebrity show-offs?
Celebrity yoga show-offs
THE BEST CELEB WORKOUT 'HEALTHIES'
UPBEAT YOGA & PILATES FOR THE LESS ZEN AMONG US
MORE GYM AND FITNESS NEWS