We're all for taking supplements to help us get our fix of vitamins and minerals, but we're not always inspired by the lacklustre bottles and boxes.
Inner Me
is a new supplement brand that's aiming to transform the vitamin market with jazzy illustrations and female friendly packaging.
The range provides carefully blended vitamin complexes and supplements to promote healthy skin, glossy hair, strong nails, increased energy and improved digestion – count us in!
Inner Me
's founder, Nikki Cooper, was a fitness fanatic and busy working woman until she was diagnosed with Multiple Sclerosis (MS) at just 28. Nikki wasn't prepared to give in without a fight (you go girlfriend...) and she threw herself into researching diet, exercise and both traditional and alternative medicines as a way to keep the condition at bay.
In 2011, she founded Inner Me and now she's scored a huge deal with high-street giant Boots.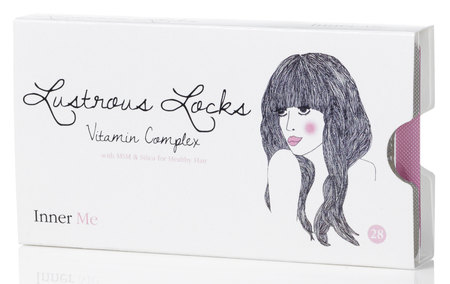 She told us, ""I feel like supplements are the building blocks or foundations that our body needs in order to be able to support and heal itself. When I first started researching vitamins, I found myself faced with a myriad of different brands all with varying price ranges and claims on my health. I knew there must be a better, more inspiring way to take vitamins and the idea for Inner Me was born."
We're obsessed with the pretty packaging and quirky illustrations - we're definitely willing to give them a go.
The products currently on offer are....
Beautify Me Vitamin Complex, £15, 28 capsules - For hair, nails and glowing skin.
Lustrous Locks Vitamin Complex, £15, 28 capsules - This careful blend of nutrients will feed your follicles with fortifying nutrients.
Super Strength Omega 3, £15, 30 capsules - These little beauties will help maintain a healthy heart, supple joints and even boost your brain function.
Vitamin D3, £4, 30 tablets - This super-vit has been shown to support the function of the immune system, the maintenance of normal muscle function and cell growth.
They're all available from Harvey Nichols, Selfridges, LoveLula.com and Boots (from the end of October).
www.innerme.com
What do you think?
WOW! PINK SHOWS OFF HER POST-BABY ABS
ZAGGORA'S NEW CALORIE BURNING UPPER BODY GEAR
TWILIGHT FEVER TAKES OVER COSMETIC SURGERY