As modern women strive for exciting careers and try to keep their heads above water financially, it's no surprise that many choose to put off having children until a later date. The only downside is that many couple experience fertility problems and have to seek advice and treatment to have children.
Even if you're not planning to get pregnant any time soon there's no harm in getting clued-up about your fertility.
Here are seven key pieces of advice that the experts want all women to know concerning their bodies, their body clocks and their 'safeguarding' options. Let us know what you think...
1. Infertility is more common than you think…
On average a healthy woman will conceive within six months of stopping birth control, but it's not always that simple. According to the Human Fertilisation and Embryology Authority, as many as one in six couples experience infertility at some point in their life and need to turn to a fertility specialist when trying for a baby. This equates to approximately 3.5 million people in the UK alone. There are lots of reasons why couples might not be able to conceive, so there's no reason to assume you've done something 'wrong'.
2. Poor eating habits can lower the odds of conceiving
You may not realise it, but food can affect your chances of conceiving, not just your weight. Obesity can affect natural hormone patterns and ovulation so it's important to maintain a healthy weight. Some studies suggest that babies born to overweight women have an increased chance of having birth defects like Spina Bifida, Cardiovascular problems and cleft lip.
At the same time, not carrying enough weight can also be detrimental to conception. A calorie restricted diet with very little fat can affect ovulation and reduce the amount of Oestrogen produced naturally.
3. Stress is harmful
It might be slightly obvious, but stress can lower your chances of having a child by 12%. In a study conducted by Oxford University and the U.S. National Institutes of Health; blood levels of stress hormones were found to be consistently higher in women who were having problems conceiving.
4. Fertility can decline at different rates depending on your ethnicity…
Age is definitely a factor when it comes to your fertility. Dr Venkat from the Harley Street Fertility Clinic (hsfc.org.uk) says, "Women's fertility will start to decrease at the age of 35; however Asian women experience this a whole year earlier. Being educated and aware will allow women to make an informed decision about the best time to start a family."
5. Not ready to have children…freeze your eggs
According to Dr Venkat, "Freezing eggs enables women to keep their options open. Choose to do this in your 20s when the eggs taken will be at their most fertile and useful. That's not to say that women in their 30s shouldn't consider this option, but it is advisable to take this path before the age of 35 years." Celebrities like Kim Kardashian have publicly had their eggs frozen to give themselves a greater chance of conceiving later in life.
6. Remember your vitamins and minerals
Clinical trials show that women taking prenatal micronutrient supplements have a higher chance of getting pregnant. A study conducted by University College London and The Royal Free Hospital showed that
Vitabiotics
Pregnacare-Conception tablets were more effective than folic acid tablets alone. Almost 70 percent (66.6 percent) of women became pregnant in the micronutrient group compared with under 40 percent (39.3 percent) of women in the folic acid group.
Vitabiotics Pregnacare Conception, £10.15,
vitabiotics.com.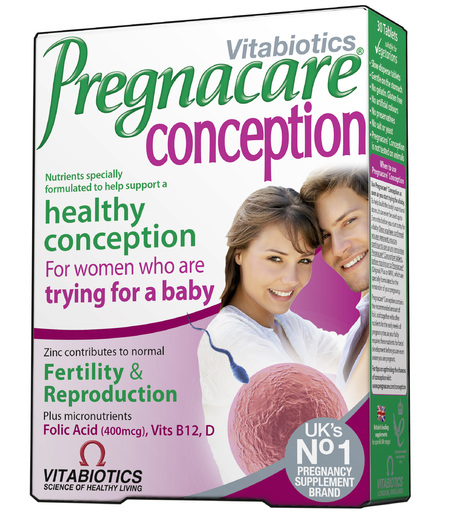 7. Be knowledgeable about your fertility status
Whether you are experiencing problems or want to discuss your options and check everything is in working order, a fertility assessment is a good way to put your mind at rest. Through a series of tests which include ultrasound scans and hormone blood tests, fertility specialists will be able to advise you on your fertility status. To find out more information about fertility assessments, egg freezing and fertility treatments visit
hsfc.org.uk
.
What do you think?
WOW! PINK SHOWS OFF HER POST-BABY ABS
ZAGGORA'S NEW CALORIE BURNING UPPER BODY GEAR
VITAMINS WITH A STYLISH TWIST FROM INNER ME