Rihanna
's
bikini body
makes us want to cry a little bit, but she hasn't got it without work - that paddle board she's on, that's helping.
The water sport is an amazing work out and is a celebrity favourite with stars like
Kate Hudson
and
Jennifer Aniston
.
Granted, these gals all live near much warmer waters than us, but those who are happy to don a wetsuit, or people who want to
keep fit on their holidays
- let us explain.
What is paddle boarding?
Paddle boarding is a demanding sport where you stand up on a heavy board and use paddles to propel yourself along in the water.
Battling the elements, waves and currents, it is a seriously good work out.
You have to be ridiculously slick to pull of paddle boarding with a cigar - we also would not recommend this as part of a get fit regime.
Why the stars love paddle boarding
It demands the
muscles in your arms
, back and glutes work super hard, whilst you need a certain amount of flexibility in your hips and back.
Trying to balance on the board will engage your
core muscles
whilst those bingo wings get a good workout through being in charge of the paddles.
It is a great sport for cardio endurance and can burn up to 700 calories an hour.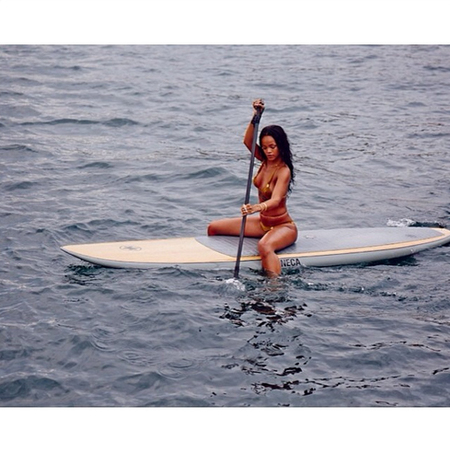 THE BEST CELEBRITY BIKINI BODIES
CAN YOU HANDLE THE 30 DAY PLANK CHALLENGE?
MORE DIET AND FITNESS TIPS