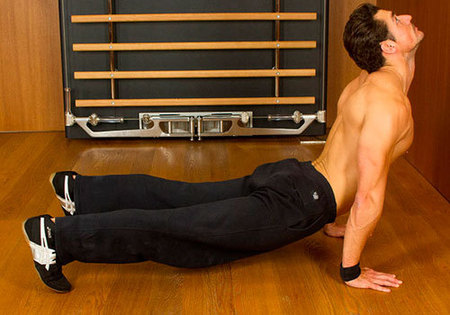 Finally! Beautiful model
David Gandy
has obviously paid attention to our fan mail as he has launched a new fitness app. Where he works out topless.
Happy Christmas ladies.
The second app launch from the
Dolce & Gabbana
model is aimed at men and women, showing how to tone up with a personalised workout.
The buff model gives demonstrations of exercises that he handed picked himself. Oh and did we mention he's just wearing his tracksuit bottoms?
We're suddenly feeling a little faint…
Gandy explained, 'I'm asked a lot about fitness and working out, from how to sculpt or target specific areas for building muscle and burning fat, to increasing fitness.
By sharing this and the exercises I do which I know first hand, work, I hope to save people a lot of time and help them to see results whilst enjoying the exercises they need to do to achieve that.'
He added, 'Training takes commitment and unfortunately there are very few short cuts but those I do know, I share in the app along with the most impactful programmes and best exercises.'
We're pretty sure we'll be watching this every day. We can't guarantee we'll be working out David, but we sure will be watching…
The David Gandy Fitness app, £2.99, available now on
iTunes App Store
Are you a big fan of Gandy? Leave a comment below to
be in with a chance of winning a £100 goodie bag
TOP 6 TIPS TO HELP YOU BEAT A WINTER COLD
ANNE HATHAWAY OPENS UP ABOUT DRASTIC WEIGHT LOSS
THE HIDDEN CALORIES OF CHRISTMAS