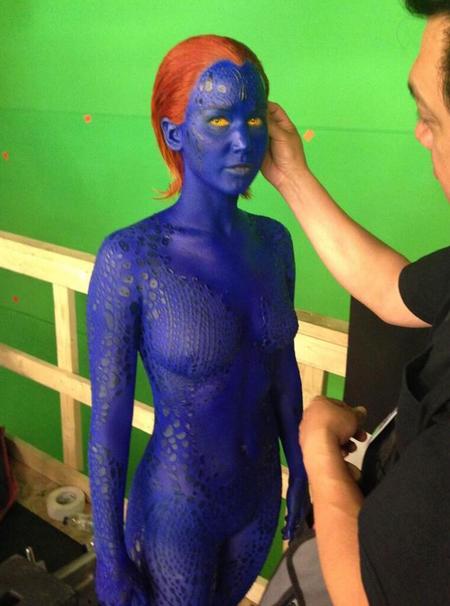 Here's a first look of
Jennifer Lawrence
in her nearly naked Mystique costume on the set of
X Men
. And yes, 'wow' was the first thing we thought too (followed by 'how does she go to the toilet?')
You know you have a rockin' body when you can cover it in blue paint, scales, slap in some scary yellow contact lenses and still look like a stone cold fox.
X Men Days of Future Past
director Bryan Singer posted the pic of Lawrence in costume on Twitter, saying…
First look: #JenniferLawrence as a vengeful #Mystique. #XMen #DaysOfFuturePast twitter.com/BryanSinger/st…

— Bryan Singer (@BryanSinger) May 20, 2013
And that ridiculously flat stomach right there is the result of not dieting as JLaw has confessed in the past that she doesn't believe in diets.
When talking about her role in
Hunger Games
, she said, 'I don't diet. I do exercise. But I don't diet. You can't work when you're hungry, you know?
I think it's really important for girls to have people to look up to, and feel good about themselves. I don't want girls to think: "I want to look like Katniss so I'll skip dinner."
As if we couldn't love JLaw enough she also said, 'I hate saying: "I like exercising." I want to punch people who say that. But it's nice being in shape for a movie, because they basically do it all for you. It's like, "Here's your trainer. This is what you can eat."
But with ex-boyfriend Nicholas Hoult also starring in the film, we're sure that is motivation enough to hit the gym. No one wants to look less than amazing when seeing their ex - especially when you are naked except for some blue paint.
THE BEST CELEB DIET & FITNESS ADVICE
FITNESS CLASSES ON TRIAL: SWEDERCISE
IT'S BRITNEY'S BUTT, BITCH