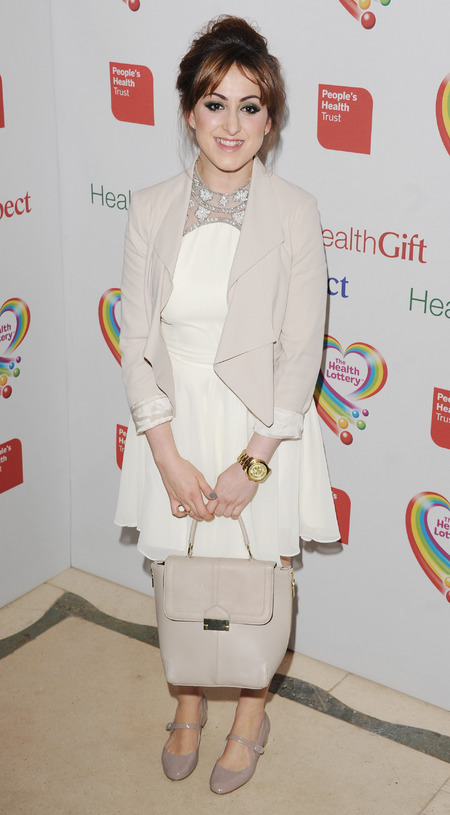 Ex-EastEnders actress
Natalie Cassidy
has been quietly working away on her second fitness DVD after the storming success of her first regime,
Natalie Cassidy's Then & Now Workout
.
But one quick glance at Nat's Twitter account shows that she's not afraid to inspire her followers with meal snaps, home gym tweets and motivational messages for fellow mums.
The actress has been shooting scenes for her new workout video with fitness expert Nikki O'Connell, but this time she's determined to do everything her way.
And a source close to Natalie told Closer magazine, "Natalie knows that a lot of people are expecting her to slim down to a stick insect for her new DVD, but that's not what her focus is about. She wants to teach others how to live healthily and stay a normal size."
Natalie famously dropped from a size 16 to a size 6 (just 7st 12lbs) for her 2007 DVD, but she later admitted that the stress on her body made her feel depressed and unwell.
She revealed, "It was all a bit of a farce. It was all wrong. The wrong way to lose the weight and wrong that the public believed I'd done it the right way. I'd never do it in that way again.
"I was really obsessed, I would spend hours thinking about what I could eat the rest of the day. My world revolved around calories. I would have no breakfast, a tiny bowl of soup for lunch then a tiny salad. And that was it."
Unsurprisingly then, Natalie had always refused to do a follow up DVD until this year, when she was given the opportunity to do everything her way. That means no calorie counting and no extreme diets - just healthy eating and moderate exercise.
A source told the Sunday Mirror, "Every year Natalie is approached by companies desperate to make a new DVD. Every year she says no. But since recently losing weight again, through a healthy diet and exercise, she has decided she wants to share it with others. She was recently offered the chance to do a DVD her own way so she's agreed."
Natalie has been exciting her followers with Tweets about her upcoming DVD including, "Looking forward to filming the 2nd section of our fitness DVD today.. It's going to be HARD! #therealone".
She's already been papped lifting mini dumbbells and doing squats, lunges and stretching exercises
like these
.
But she's also on a mission to get more women, especially new mums, working out at home too. She Tweeted...
Don't ever say you can't work out .. Kids are in bed, do 40 mins and make yourself feel better. #noexcuses pic.twitter.com/QACah6s2NW

— Natalie Cassidy (@Nat_Cassidy) August 9, 2013
And before anyone says they don't own a running machine- buy a skipping rope or do jumping jacks- #getyourheartrateup

— Natalie Cassidy (@Nat_Cassidy) August 9, 2013
Now, Natalie is a healthy 9st 10lbs and works out four times a week. As a busy working mum and yo-yo dieter we'll be intrigued to see what her new fitness DVD has to offer!
Oh, and before you go here's one last snippet of advice from Sonia, errrr, we mean Natalie...
Night all. Try and get 7/8 hrs tonight.. Then you won't eat rubbish tomorrow. Xxxxxx

— Natalie Cassidy (@Nat_Cassidy) July 22, 2013
Luckily, Natalie's first fitness DVD didn't make it onto the 'World's cheesiest celeb fitness DVDs list'...
What do you think?
LITTLE MIX STAR JESY NELSON'S FITNESS REGIME
MILLIE MACKINTOSH'S FLYING WORKOUT
LUCY MECKLENBURGH'S TOP INSPIRATIONAL FITNESS TWEETS
JENNIFER ANISTON BLAMES WEIGHT GAIN FOR PREGNANCY RUMOURS