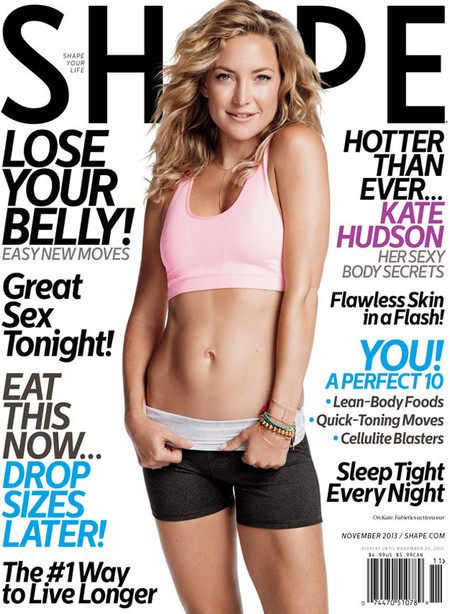 Looking at
Kate Hudson
's washboard abs makes us want to get down on the floor right now and
start doing crunches.
Who cares if we're in a meeting - we need that stomach! But before we all get fired for inappropriately working out in the office, Kate has confessed that a free diet app is actually the secret to her amazing figure.
Aside from her
love of Pilates
, the actress and mum of two revealed that a calorie counting app was responsible for her
losing weight after having a baby.
Promoting her new sports line,
Fabletics
, the mother of two told
Shape
magazine that, 'I remember a few years ago I needed to
lose some weight
but just couldn't drop these 15 pounds,' reports
Just Jared
.
'My diet was a lot of
raw foods
and I thought, 'Why am I so bloated?' Turns out I was eating about 3,500 calories a day because I was constantly snacking on cashews!'
She continued, 'I got that app
My Fitness Pal
and kept track of everything I ate. Normally I'm at about 1,800 calories per day, but when I want to
drop a few pounds
I stick to 1,500. It's the only way to do it. I have to be vigilant.'
We love My Fitness Pal too, although have to confess when we hit our calorie max - we just stop entering those chocolate Hob Nobs. It's like they never happened. Might explain the difference between our abs and hers. Oh.
FREE DIET APPS TO TRY OUT...
IS CALORIE COUNTING REALLY THE KEY TO LOSING FAT?
MORE DIET & FITNESS TIPS